Simple Daily Gestures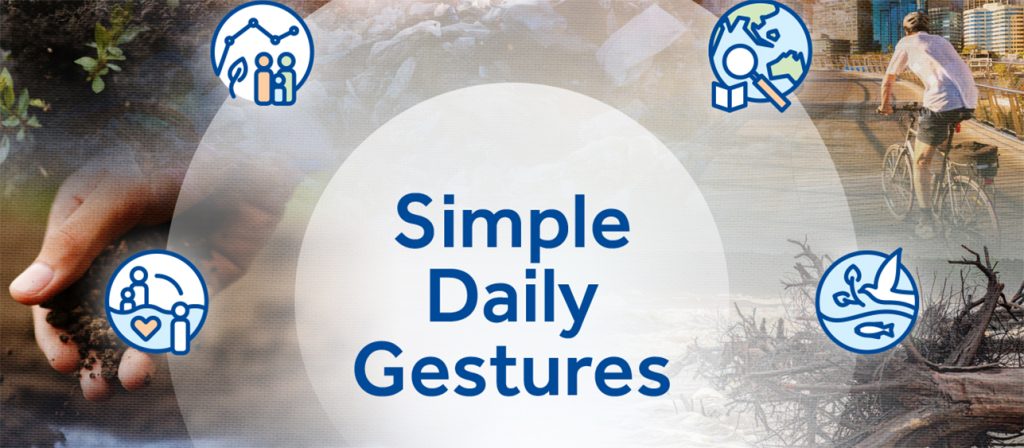 With the launch of the Institute's new Integral Ecology policy in October 2021 and the launch of the Laudato Si' Action platform in November 2021, the 'Simple Daily Gestures' booklet that was developed back in 2017 has been updated with more voluntary behaviours to showcase how individual commitment can be incorporated through simple actions into everyday activities.
This booklet links very well into the Laudato Si' goal of "Adoption of Sustainable Lifestyles" and as you will see through the booklet, many behaviours and actions can address many of the Laudato Si' goals.
This is completely voluntary and provides a simple checklist of activities that will assist you in becoming more sustainable at your place of residence. Many are applicable in office settings as well.
This booklet is environmentally friendly.
To honour the intentions of the Integral Ecology Policy, printing this document is discouraged. Each box in each table is interactive. If using your computer, click into the box/es that are most applicable to you and a tick will appear. To save your answers simply save the document to your files.
Click here to access the Simple Daily Gestures Booklet
Click on the play arrow below to watch the Simple Daily Gestures Video
Click on the play button below to watch the launch of the revised 'Simple Daily Gestures' booklet which talks about hints and behaviour tips to help us all to live more sustainably.