Safeguarding of Children and Vulnerable People
If you or someone you know has been harmed or adversely affected by a Sister, employee or volunteer of ISMAPNG, please call 1800 019 625 or use the link below to contact the Safeguarding Officer who will listen to your experience, respect your confidentiality and explain the available options to you.
The National Redress Scheme provides acknowledgement and support to people who experienced institutional child sexual abuse. It was created in response to the Royal Commission into Institutional Responses to Child Sexual Abuse, which estimated that 60,000 people experienced institutional child sexual abuse in Australia.
The Scheme started on 1 July 2018 and will run for 10 years. The Institute of the Sisters of Mercy of Australia and Papua New Guinea is a member of the scheme.
For more information on the National Redress Scheme, please visit the Redress Scheme website https://www.nationalredress.gov.au/ , call 1800 737 377 or click on the image below.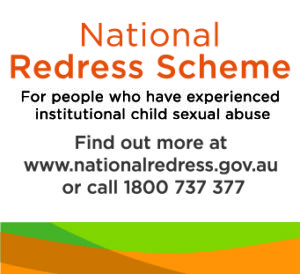 We acknowledge that regrettably there have been times, during the history of the congregations which formed ISMAPNG in December 2011, when some people were not treated with care and respect.
Today we have strict procedures and policies to ensure the safeguarding of children and vulnerable people. These apply to its members and to all who are employed in its works.
The ISMAPNG Safeguarding Policy can be read/downloaded here:
The ISMAPNG Code of Conduct can be read/downloaded here:
If you are aware of abuse by one of our personnel, against a child or a vulnerable person, you are strongly encouraged to report your concern.
---
Important contacts
Child Abuse – Australia and Papua New Guinea
Child abuse is a criminal offence and the police are the appropriate authority to handle criminal investigations. If you have a complaint you should contact your local police station or Crimestoppers on 1800 333 000 (Australia) or the Department of Police (PNG) +675 322 6100.
Complaints – Australia
We strictly follow the principles and procedures set out in Towards Healing, the Catholic Church's Australian protocol for addressing complaints of abuse (sexual, physical or emotional) relating to priests, sisters, staff and other paid and voluntary personnel.
Towards Healing is a response which enables the concerns of victims and survivors to be addressed primarily in a pastoral way as opposed to an adversarial and legal approach.
Those who may make contact with Towards Healing in relation to a matter which may be of a criminal nature are strongly advised to take their case to the police.
The Archdiocese of Melbourne has established its own process for responding to such complaints, known as 'The Melbourne Response'.
For information about Towards Healing in your state or territory or for a confidential discussion about the process, please contact the ISMAPNG Safeguarding Office on 1800 019 625 (Australia).
Complaints – Papua New Guinea
If you reside in Papua New Guinea please contact the ISMAPNG Safeguarding Office in Australia +61 (0)2  9572 5400.
---
Further information
ISMAPNG Safeguarding Office – 1800 019 625 (Australia) or +61 (0)2 9572 5400 (PNG).
Links