Santa Casa, Queenscliff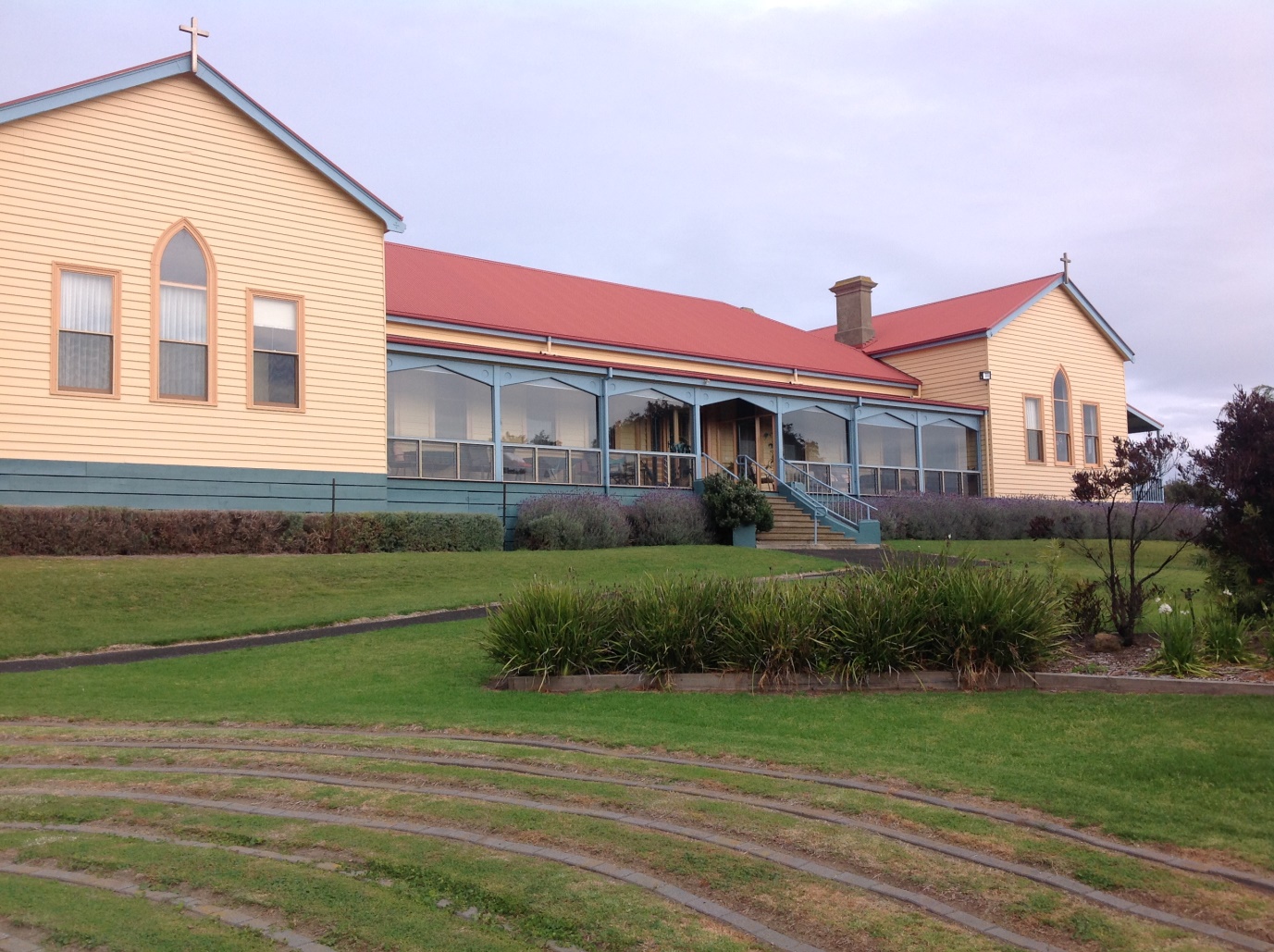 Santa Casa provides a sacred place of refreshment and nurture for body, mind and spirit. Through its staff, retreats and programs it seeks to offer:
A homely space where all feel welcome, especially the most vulnerable;
A contemplative container for the deepening of spirit;
A deep reverence for all creation;
A place to hold tradition within evolving consciousness.
---
2019 Retreat Program
June 2019: Tuesday 4th – Thursday 13th
Gems of Inner Truth
Facilitator: Liza Stewart
This retreat in the Ignatian tradition offers an opportunity to gain self- awareness.   Experiential exploration will reveal insight into the wonderful richness held in our inner world. Our quest to unwrap this inner wisdom is a challenging one, which at the same time can be difficult, inspiring, puzzling and exciting, as we will seek to answer the most revealing of all questions, 'Who actually am I?' There will be group discussion, silence, and the opportunity for individual spiritual direction.
Maximum Number: 8
Cost $800 (GST not included)
June 2019: Friday 14th – 21st
'With the drawing of this Love and the voice of this Calling…' [T.S.Elliot, Little Gidding]
Facilitators: Madeline Duckett RSM
The drawing power of Divine Love in us has a story in each of our lives as we slowly learn to recognize and trust in the ebb and flow, and to move to deeper places of Divine union. Like nature's seasons, Love draws us through seasons of abundance and scarcity, birth and death, growth and diminishment, suffering and joy. This retreat will help us to re-member our experiences and explore the 'Eucharistic' nature of Omega Love's continuing call to BE and to BECOME MORE. During the retreat there will be opportunity for spiritual direction for those who wish.
This retreat is fully booked
Cost: $600 (GST not included)
July 2019: Wednesday 31st – Aug 7th
At the time of the Rising Dawn
Facilitator: Kerrie Hide
'In this spiritual sleep in the caress of the Beloved
We relish all the tranquillity, rest and quiet of the peaceful night
That is the tranquillity and quiet of divine light"
– John of the Cross, Spiritual canticle 15:22
Drawn by the touch of the beloved in the night of our lives, we will create a communion of love longing, as we follow the invitations of dawn light arising in us, awakening unitive awareness. John of the Cross, Elizabeth of the Trinity, Teilhard de Chardin, and Beatrice Bruteau will be our guides.
Cost: $600 (GST not included)
August 2019: Sunday 18th – 25th
'Unless a grain of wheat falls into the earth and dies….'
Facilitator: Rev Chris Hope
In the retreat we will reflect on the episodes of the Passion Narrative in the Gospels, particularly from the perspective of the disciples, female and male who are with Jesus on the way to Calvary.
We will keep in mind the words of St Paul: I have been crucified with Christ, and it is no longer I who live but it is Christ who lives in me.'
Cost: $600 (GST not included)
September 2019: Wednesday 4th – Saturday 7th
Centering Prayer
Facilitator: Helen Duffy
Centring Prayer is a receptive method of silent prayer that prepares us to receive the gift of Contemplative prayer, prayer in which we experience God's presence in us.
Closer than breathing, closer than thinking, closer than consciousness itself, this method of prayer is both a relationship with God and a discipline to foster that relationship". [Thomas Keating]
Cost: $300 (GST not included)
September 2019: Sunday 15th – 24th
Directed Retreat "Sounding  Solitude"
Facilitator: Madeline Duckett RSM
This is a fully directed 8 day retreat where retreatants are invited to begin from where they are and sense the still small voice within, calling them to where they might be. There will be the opportunity for spiritual direction each day at a chosen time as well as a daily contemplative time together for those who feel drawn to pray in communion with others.
Maximum of 6 Costs: $800 (GST not included)
This retreat is fully booked
October 2019: Tuesday 15th – 22nd
The Kingdom is Here. 'You must know, the kingdom of God is among you' – (Lk 17:21)
Facilitator: Rev Peter Varengo
'An exploration of discipleship through the Gospel imagery of the Kingdom'
Jesus had hang-ups, none more persistent than his concept of Kingdom –
a reality understood as the life-giving and active presence of God in our world, embracing every dimension of faith, and expressed in the human experience of each day in the here and now.
Jesus' Kingdom parables then become the blueprint of the personal and collective response of the believer who accepts the call to discipleship.
Cost $600 (GST not included)
November 2019: Sunday 24th – 27th
Prayer for the Universe 
Facilitator:  Mary Dennett RSM
Teilhard de Chardin's Prayer of the Universe gives us a deep understanding of the presence of God in the Universe and the fullness of life that we share. These three days are a time for study and reflection on the richness of the spirituality that he presents in his writings.
Cost: $300 (GST not included)
Mary Dennett rsm MA. BSc(Ed) Grad Dip (Ed Admin) is a Sister of Mercy with many years' experience in Secondary education. She has attended the Earth Literacy Course in Genesis Farm, New Jersey and completed a MA in Culture and Spirituality at Holy Names University in California. She is now involved in Education in the Universe Story and our understanding of the Universe as a primary Revelation of God.
December 2019: Tuesday 3rd -10th
Advent's Longing
Facilitators: Carole Carmody RSM and Margaret Moore RSM
If you find yourself longing to nurture the desires of your heart, for quiet and peace, for walks along the shore with beautiful sunsets, this retreat may be an invitation to you .
Each day offers silence and contemplative spaces with a morning reflection, evening prayer, and optional Spiritual Direction.
This retreat is fully booked
Cost: $600 (GST not included)
Other information about our Centre:
---
---
For bookings and further information contact:
Sr Lizzie Finnerty rsm
Santa Casa
33-35 Flinders Street
Queenscliff VIC 3225
Phone: (03) 5258 2661
Mobile: 0418 194 261
Website: http://institute.mercy.org.au/santa-casa
Email: santacasa.enquiries@ismapng.org.au