Become a Sister of Mercy
As Sisters of Mercy we respond to the call to know God's loving kindness and commit our lives to sharing this with others through a life of prayer, community and service. We have been drawn into a community of religious women dedicated to the Mercy mission.
Being a Sister of Mercy is about answering God's call in each moment of life. In responding to local and global needs, we are engaged in a variety of services including education; health care; social welfare; spirituality; theology and scripture; communication and media; ecumenism; governance and administration; advocating for justice; working with Aboriginal people; outreach to asylum seekers and refugees; raising awareness of environmental and ecological issues; offering hospitality and prayer in diverse ways.
Why become a Sister of Mercy?
While a life of Mercy can be undertaken on your own, as a Sister of Mercy a woman responding to God's call will join a rich, fulfilling and supportive group of women committed to giving witness to the Gospel through how they live and in what they do.
How do I explore becoming a Sister of Mercy?
Every life journey is unique. If you feel drawn to become a Sister of Mercy, we are here to support you as you explore the possibilities. However, the following information may be helpful:
Our Vision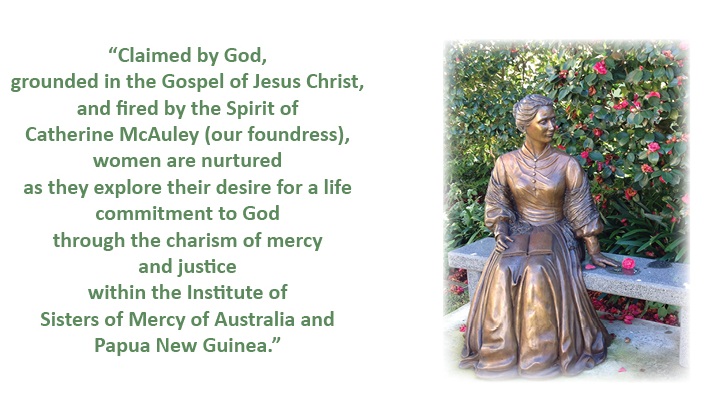 We are committed to facilitating and enhancing the faith journey of each woman who is discerning a call from God to religious life.
If you are interested in finding out more about being a Sister of Mercy, please contact:
Initial Formation Director : vocations@ismapng.org.au
If you would like to have further information about the whole formation process, go to:
Exploring Membership | Institute of Sisters of Mercy of Australia
You may also like to explore Mercy Associates  and Young Mercy Links as alternative ways of involvement with the work and spirituality of the Sisters of Mercy.