Archives and Heritage
The Archives and Heritage group manages the archival and heritage collections of the Institute of Sisters of Mercy of Australia and Papua New Guinea. This includes the collections of the former Sisters of Mercy congregations of Cairns, Townsville, Rockhampton, Grafton, Singleton, Gunnedah, Wilcannia-Forbes, Bathurst, Goulburn, Ballarat East, Melbourne, Adelaide, Perth and West Perth as well as Papua New Guinea.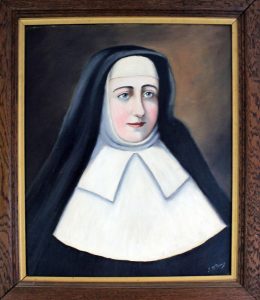 Our Mission
ISMAPNG Archives and Heritage is committed to acquiring, documenting and preserving the archival and heritage collections of the Institute so that the story of the Sisters of Mercy in Australia and Papua New Guinea will continue to inform and inspire the continuing Mercy mission into the future.
The Collection
Records and objects have been selected for retention and preservation due to their administrative and historical significance and provide evidence of congregational activities, religious life and ministries from 1846 to the present day.
Our rich and diverse collection includes archival records, photographs, audiovisual material, building plans, publications, textiles, small heritage objects, furniture and artworks.
Our Heritage Centre in Singleton houses parts of the collection and is a place to learn more about the Mercy story, ministries and traditions.
---
Contact
Members of the public wishing to submit an inquiry to ISMAPNG Archives should do so in writing via email or by mail.
ISMAPNG Archives and Heritage – Institute Centre Stanmore, NSW
PO Box 284
Petersham NSW 2049
Phone: 02 9572 5400
Email:
ismapngarchives@ismapng.org.au
            Inquiries for the former congregations of Cairns, Bathurst, Townsville, Grafton, Gunnedah, Goulburn, Wilcannia Forbes and the autonomous region of Papua New Guinea should be sent to the Institute Centre.
ISMAPNG Archives and Heritage – Community North in Rockhampton, QLD
PO BOX 1576                                                               Rockhampton Qld 4700
Tel/Fax: 07 4931 7472
ISMAPNG Archives and Heritage – Community South C in Alphington, VIC                                                                
Southern Administration Centre
720 Heidelberg Road
PO Box 5067
Alphington VIC 3078
Phone: 03 9499 1577
Email:
archivesmelbourne@ismapng.org.au
ISMAPNG Archives and Heritage – Community South A in Mile End, SA                                                                      
Catherine McAuley Place
4 Victoria Street
Mile End SA 5031
Phone: 08 8150 4900
Email:
archivesperth@ismapng.org.au
ISMAPNG Archives and Heritage – Community South A in Perth, WA                                                                        
St Brigid's Convent
60 John Street
Northbridge WA 6003
Phone: 08 9328 6991
Email:
archivesperth@ismapng.org.au