Mercy Global Presence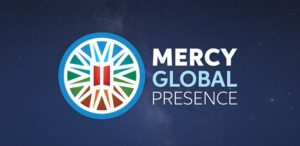 Our Mercy world is participating in the Mercy Global Presence program, a program designed to offer reflective resources to Mercy communities and networks across the world. 
Mercy Global Presence is an organic entity and a countercultural sign in a globalised world which has made more extreme the displacement of persons and degradation of Earth. Mercy Global Presence links congregations/institutes, individual Sisters of Mercy and Associates, partners in Mercy, and Mercy International Association in creative and energising ways.
Overview
You are invited to participate, through reflection and discussion, in the use of the resources prepared around themes for each month.
Every four months the emphasis of these themes will change, but they will all maintain a related focus on the concerns of Mercy sisters and their colleagues across the world, that is, on the displacement of Persons and the degradation of Earth.
This program is an invitation to exploration and reflection and draws on the call in the new MIA Vision statement.
The program began on September 29 2019 and will run over the next two years in four Segments of four months duration. This will enable all Mercy people around the world to participate, while respecting the summer break times of both the Northern and Southern hemispheres.
Segment Two Focus: Mercy
New Regional Gatherings July 28th to mid-September, 2020

New Invitation
You are now invited to participate in an offering of reflective Regional gatherings across the Mercy Congregations and Institutes of the Mercy International Association. Australian participants will be joining participants from the Philippines, New Zealand, Samoa, Tonga, Papua New Guinea, Cambodia, Timor Leste, Vietnam and Guam.
These gatherings will be facilitated and their focus will be on a set of newly designed Posters which incorporate the key themes, images and words taken from each of the four themes of Segment 2: 'Mercy' in the Mercy Global Presence (MGP) program.
To find the dates and times of these Regional gatherings, click here.
The first Regional gathering will be held on Tuesday, 28 July 2020 at 10.00am AEST. Attendance is via Zoom, but free registration via Eventbrite is required prior to the event.
To register for this first Regional Gathering, click here.
To see Poster One, the focus of the first meeting, click here.
Invitations are extended broadly: – Sisters, Associates, colleagues and interested friends and ministry partners.
These four reflective regional gatherings will have a focus on four themed Posters from the MGP Segment on 'Mercy'.  The MGP resources on which the Posters haveb een developed can still be accessed.
They are available on the Mercy Global Presence microsite on the MIA website at mercyworld.org and in Mercy eNews.
---
The first set of Posters (below) on Segment 1 of the theme 'Global' of Mercy Global Presence are also still available for screen display or for download for print, reflection and discussion.
They are available here in A3 and A4 format. Alternatively you can click on each poster below to view and download the A4 version.
Click here for a timeline of Segments and Themes with associated resources.
---
Online (Zoom) Mercy Global Presence Meetings
Adele Howard invites you to the next upcoming meetings as follows:
SEPTEMBER
Theme: Presence of/with/to God
Topic: Mercy Global Presence
Time: September 9, 2020 4.00pm AEST
Join Zoom Meeting here: COMING SOON

OCTOBER
Theme: Presence to Earth
Topic: Mercy Global Presence
Time: October 14, 2020 4.00pm AEST
Join Zoom Meeting here: COMING SOON

NOVEMBER
Theme: Presence in Ministry & Community
Topic: Mercy Global Presence
Time: November 11, 2020 4.00pm AEST
Join Zoom Meeting here: COMING SOON
DECEMBER
Theme: Presence to Self & Other
Topic: Mercy Global Presence
Time: December 9, 2020 4.00pm AEST
Join Zoom Meeting here: COMING SOON
We will be updating the Zoom meeting invitations on this page on a regular basis.
---
'…Deeply rooted in the gospel and the legacy of Catherine McAuley, MIA seeks to gather the inspiration and energies of the Sisters of Mercy, our Associates, colleagues and partners worldwide toward the creation of a Mercy global presence'
In other words, we are all being invited to explore new images, new language and new theology amid the intercultural realities within and among our Mercy Congregations and Institutes.
In particular, across ISMAPNG, we hope this Mercy Global Presence Program is assisting us to deepen our understanding of and our response to the 'degradation of Earth' and to 'the despair and suffering of many peoples' (from our ISMAPNG Chapter Statement).  In so doing we will find new expressions of the presence of Mercy, particularly in our regional context.
If you have any questions please contact Adele Howard rsm, the ISMAPNG Coordinator of Mercy Global Presence, at adele.howard@mercy.org.au