Archived News Item
Season of Creation 2021
August 31, 2021

The Season of Creation is  the annual  celebration of prayer and action for our common home. Together, the ecumenical family around the world unites to protect and advocate for God's creation.
The season starts 1 September, the World Day of Prayer for the Care of Creation, and ends 4 October, the Feast of St. Francis of Assisi, the patron saint of ecology.
The theme for 2021  is 'A Home for All? Renewing the Oikos of God'.
An Invitation from Pope Francis 
Speaking during his Sunday Angelus, Pope Francis said the "cry of the Earth and the cry of the poor are becoming increasingly serious and alarming." Now is the time for all people, especially Catholics and Christians, to increase their commitment to our common home by doing more than ever to protect God's creation.
Pope Francis on Sunday also warmly thanked the Laudato Si' Movement for its work in caring for our common home.
Click on the video below to watch Pope Francis' invitation to celebrate the Season of Creation
Get Involved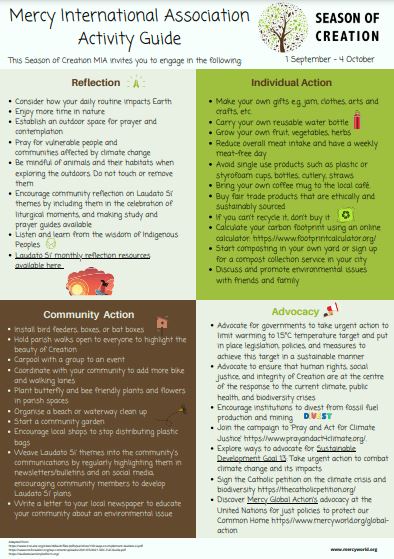 The Mercy International Association has created a toolkit with some practical and fun ways of getting involved in the Season of Creation – Click here to read
You may also like to visit the Mercy International website – Click here 
There are many other activities and resources on the Season of Creation website – Click here 
Institute Events
The main focus for celebrations for the Institute will be a weekly time of contemplation and reflection on Zoom, organised by the Mercy Hub in Melbourne.
October 6 – Helen Nolen RSM
Cry of the Earth – Cry of the Poor
Listening, Learning, Change – Aust. Bishops Statement 2021
Past sessions
1st September – Veronica Lawson RSM
Celebrating the Season of Creation
8th September – Mary Tinney RSM
A Home for All – an Australian Response
22nd September – Sally Neaves & Juliet Talarico
Ancient Wisdom for New Times – honouring the knowledge of indigenous people and landscapes
Messages to : admin.meryhub@ismapng.org.au
Wednesday 29th September – Jemima Welsh
'Money as Mercy'
'Do justly now, love mercy now, walk humbly now.'
(Micah 6:8)
(Recording coming soon)
Other Events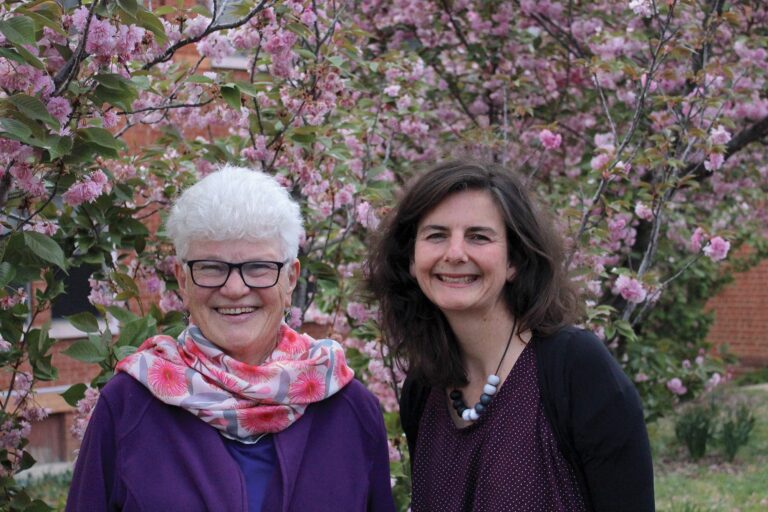 '2 Hemisphere' prayer during season of creation, featuring Margie Abbott RSM and Sally Neaves (Integral Ecology Educator) .
Fridays, September 3, 10, 17, 24, and October 1
7:30 – 8:00 AM AEST
https://csjthewell.org/programs/2-hemisphere-prayer/
Messages to: sally.neaves@ismpng.org.au 
Click here to return to Just Mercy