Archived News Item
Mercy Mission Formation Network
September 22, 2014
Tropical Cairns was the idyllic setting for the second gathering of the Mercy Mission Formation Network for 2014. Twenty four women and men charged with formation for Mercy mission gathered for two days. At this gathering the main objective was formation of the formators themselves and so Jan Gray rsm led a process of theological reflection on the topic 'What is Mercy Mission for us today?' The process allowed space and time for deep reflection and discussion on where the contemporary world is crying out for Mercy and how those charged with formation of ministry leaders might effectively form leaders to respond.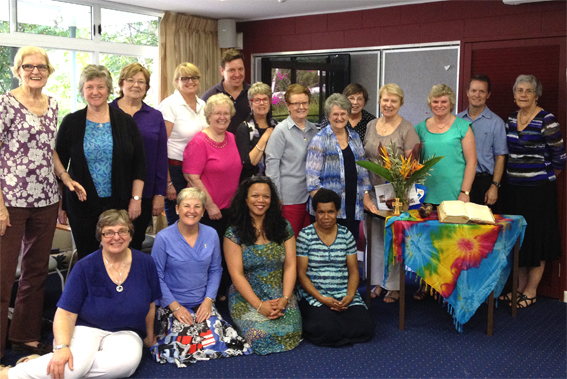 The afternoon of day two took up the challenge to be practical in our support of each other and sharing of resources for formation across the Mercy congregations represented. There was the opportunity to report on progress on the range of activities currently undertaken by the Network including a refinement of the document of levels of formation for ministry personnel and progress on the strategy for recruitment, induction and formation for Board Directors.
The Network meets twice yearly, participants drawn from and supported by the congregations of Sisters of Mercy of Parramatta, North Sydney, Brisbane, Institute of Sisters of Mercy of Australia & Papua New Guinea, Aoetorea New Zealand and from Mercy Partners are charged with formation of personnel for Mercy Mission. There is a wonderful sense of Mercy community present in the group with support, sharing of resources and working groups often extending beyond the set days where areas of interest can be explored further together. To support the formators gatherings in 2015 will include one day of professional development and one day of project work.
Messgaes to: Carmel Crawford, Mercy Ethos Coordinator, ISMAPNG.
Photo:
Participants at the August meeting of the Mercy Mission Formation Network held at Seville Conference Centre, Cairns.