Mercy Mission Formation Network 2023 Gathering
March 7, 2023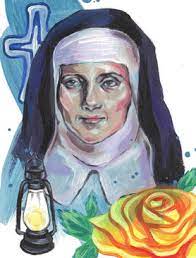 The Mercy Mission Formation Network (MMFN) co-ordinating team are currently working on the final plans and agenda for the re-launch of the Mercy Mission Formation Network 2023 Gathering.
We are looking forward to the relaunch of our network after COVID disrupted our plans.  The gathering will provide a time to reconnect to our network and will facilitate connections old and new. We look forward to welcoming our new members.
The theme for our 2023 Gathering will be 'Be as Shining Lamps: Preserving, Nurturing, Reimagining the Mercy Charism' and we will use Caroline Thompson's second book in the Mercy Partners Charism Series Be as Shining Lamps – Preserving, Nurturing, Reimagining the Mercy Charism, which was launched by Mercy Partners on November 16 2022.
This practical handbook provides key information on the life of Catherine McAuley along with reflections, prayers, liturgies, worksheets and suggestions for preserving the Mercy Charism into the future. If you already have a copy, please bring it along to the gathering. You may order your copy here, books will also be available for purchase at our gathering.
The Mercy Mission Formation Network is a place, real and virtual, for women and men, lay and religious who are working, or who are interested, in formation in mercy ethos and mission effectiveness within mercy ministries and other groups.
Our Purpose is:
to build a community of common interest and mutual support;
to facilitate sharing resources, for mercy ethos and mission effectiveness
to provide a centre for formation of the formators
This community is under the patronage of the four Mercy congregations in Australia and Papua New Guinea, the MPJPs of Mercy Partners, Mercy Ministry Companions, MercyCare and Whanau Mercy Ministries. Participants are funded by ministries and congregations.
For those of you who might like to start looking at flights for our gathering, we are keen to provide you with the following details:
Venue:  Santa Teresa Spirituality Centre
267 Wellington Street Ormiston, Brisbane Queensland.
Santa Teresa is located to the east of Brisbane at Ormiston, some 30 kms from both the CBD and Brisbane airport – approximately a 40 minute drive.
Dates: Wednesday June 14 commencing at 5:30pm until Friday June 16 concluding with lunch.
We are now asking those looking to attend to register your attendance using this link
For those new to our group, members are responsible for the cost of their flights to the gathering and accommodation.
The MMFN Group will cover the cost of any associated activities during our gathering, presenter acknowledgments and hire of the venue.
Messages to:  mposullivan@bne.catholic.edu.au

Micheal O'Sullivan, Ailsa MacKinnon RSM, Margaret Endicott RSM and Caroline Thompson