Archived News Item
Mercy Connect's Roadmap for Future Mission in Thurgoona
May 4, 2021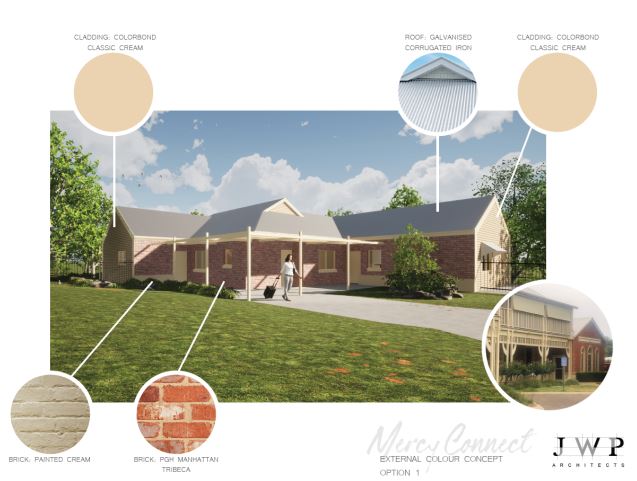 In late 2020, Mercy Connect designed a Master Plan for the St John's Campus located in Thurgoona to provide a clear roadmap for delivering future capital works, which are integrated and achieve the Mercy mission.  Mercy Connect provides a range of services to support adults, children and older people with a disability to live independently and get actively involved in their community.
Mercy Connect is well known, and respected, for providing services to people with a range of complex issues. It is recognised that there is an eminent need for a multipurpose accommodation in the Albury region to meet the short-term needs of those in need. These include:
Participants who are exhibiting a prolonged episode of behaviour that creates risk to themselves or others, requiring intensive support and assessment in a safe and secure environment to enable transition back to their usual residence.
Young people leaving the care who require further development of their independent living skills to enable full transition to the community.
Provision of short-term crisis accommodation:
Centre-based respite (Short Term Accommodation) under NDIS;
Transitional support for people with psychosocial disabilities leaving acute mental health care with the aim of building their capacity to return to their usual residence.
The proposed accommodation will provide a safe and secure environment for up to two people with disability and staff. The purpose-built accommodation will include secure, separated units to ensure the safety and wellbeing of each participant and staff during periods of instability or escalation of risk behaviours. Staff will be able to able to access a 'safe' space while continuing to monitor all common areas. Each individual unit will allow for sufficient independence to enable skill-building and increased self-sufficiency.
Currently Mercy Connect is finalising a Heritage Report, which will be required before final submission of a Development Application.
It is anticipated that the transitional accommodation will be fully commissioned by 2022.
To find out more about Mercy Connect – https://mercyconnect.org.au/
Messages to: Trent.Dean@mercyconnect.org.au