Archived News Item
Country Convents, Convicts and Graves in York, Western Australia
September 30, 2021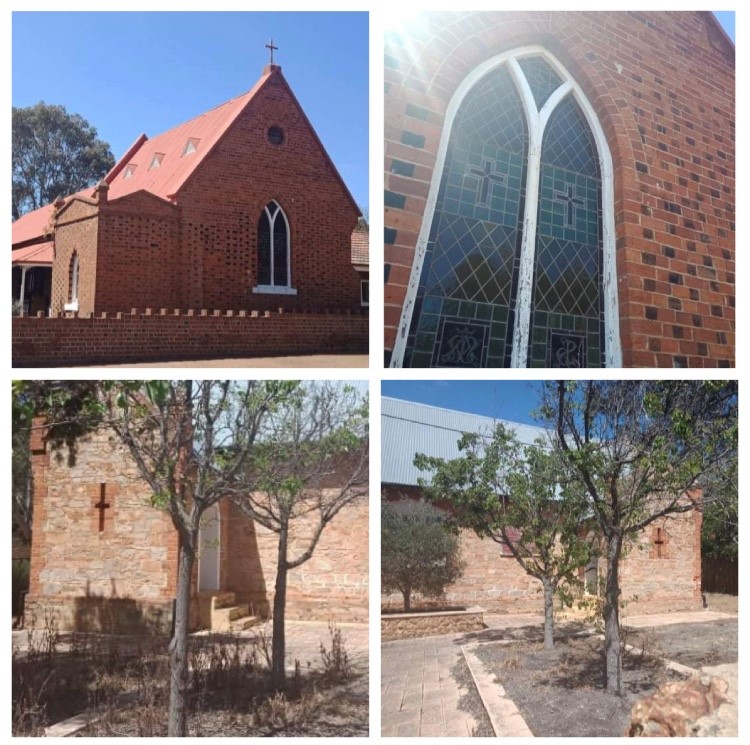 When the foundation to Perth was secure the Sisters of Mercy began to be needed in the new and expanding rural towns starting to appear in Western Australia. In 1872 sisters departed by bullock dray to establish a convent school at York, the first colonial inland town after Perth with European settlement beginning in  1831.
The convent would eventually be established opposite the Catholic church in York.  The church would be built by former convict Joseph Nunan. Nunan had been arrested in Kerry for anti-British activity. He had been sentenced to seven years servitude in Western Australia.  When pardoned in May 1869, he quickly established himself as a builder and architect. Nunan erected many fine buildings, including the Mercy Convent at Victoria Square and the York Catholic church, St Patrick's receiving particular acclaim. The Sisters of Mercy Convent and school buildings were built in the same street directly opposite the church. [1]
Records from our archives show the valuation for the buildings and land, convent, school buildings and fences signed by Nunan in 1882 totalling 3,500 pounds. It describes the schoolrooms 65 feet x 24 feet, the stone and brick convent with twelve rooms and "100 feet of verandah eight feet wide."[2]
One sister to go to York was Sister Mary Augustine (Ellen) Commerford from Champion Bay, Geraldton, born in 1864. Her parents Martin and Ellen had emigrated to Western Australia from Ireland, "They left Plymouth on the Lord Raglan on 5 March 1858 and arrived in Freemantle on 1 June 1858. There he [Martin] enrolled in the Pensioner Force in 1858 and remained with them until 1865." [3] The Commerford's became a large, well established and respected Catholic family in their community, and it was therefore not unusual for one of their children to feel the call of religious life.

The West Australian Record announced her ceremony of holy profession on Tuesday 24th April 1883 and sadly would announce her death in York in 1892 just nine short years later.   In the years between she had gone on foundation to Bunbury as a young and capable woman. Her service in York was again as a capable and talented woman who was especially prized for her musical talents in the school. Her large funeral was attended by the community; "Children of Mary walked two and two, wearing white dresses and long white veils. Then followed the schoolgirls wearing black sashes; the boys with white hat bands came next and last the general public."[4]
Her mother Ellen would erect a large headstone with a quotation from Lord Byron's poem, "One Struggle more".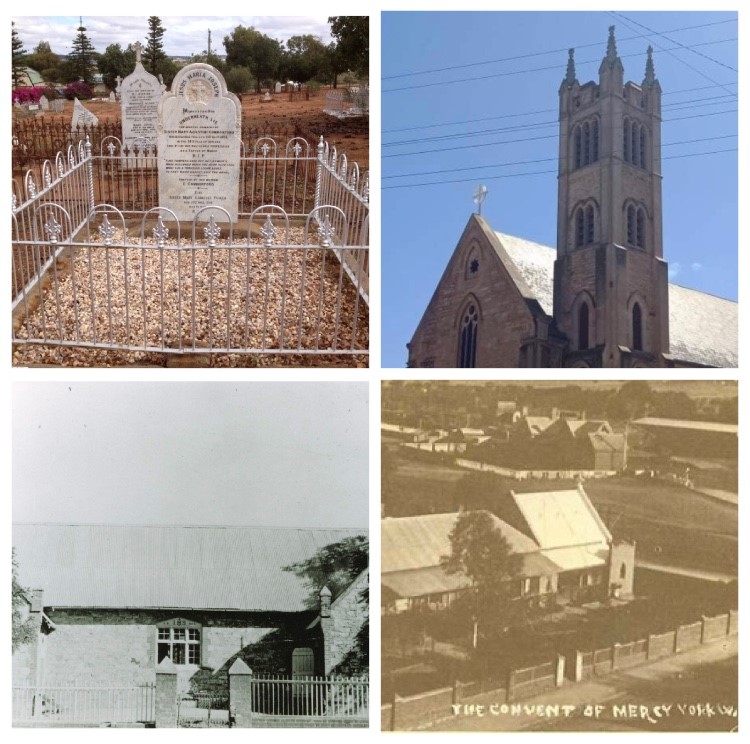 The stone reads:
"JESUS, MARIA AND JOSEPH
MISERICORDIA
UNDERNEATH LIE
THE MORTAL REMAINS OF
SISTER MARY AUGUSTINE COMMERFORD
WHO DEPARTED THIS LIFE 31ST OCTOBER 1892
IN THE 3OTH YEAR OF HER AGE
AND 9TH OF HER RELIGEOUS PROFESSION
AS A SISTER OF MERCY
R.I.P
"TIME TEMPERS LOVE BUT NOT REMOVES,
MORE HALLOWED WHEN THE HOPE HATH FLED
WHAT ARE A THOUSAND LIVING LOVES
TO THAT WHICH CANNOT QUIT THE DEAD"
– – – –
ERECTED BY HER MOTHER
E COMMERFORD
– – – –
York convent and school buildings although now privately owned are still a well-preserved site in the street scape of York opposite St Patrick's Catholic Church. The grave of Sr Commerford is still well maintained thanks to the care of the local Catholic community.
'Contact the Archives and Heritage Team" ismapngarchives@ismapng.org.au
Follow us on Facebook : https://www.facebook.com/ismapngcollections/
Further reading and references
Women Out of Their Sphere by Sr Anne McLay, 1992.
Available on our website at https://institute.mercy.org.au/about-us/archives-and-heritage/education-resources/
Read More about the Commerford family here:
http://www.patrickcomerford.com/2020/07/martin-commerford-from-siege-of.html
https://enrolledpensionerforcewa.org.au/epf-profiles/c/commerford-comerford-martin-33rd-regiment/
Recent York Convent photographs courtesy of B.J. Medley © 2021
 ——————————————————————
[1] McLay, A., Women Out of Their Sphere, p. 78
[2] ISMAPNG Archives, Perth Collection, Reference PC2009/035/003
[3] https://enrolledpensionerforcewa.org.au/epf-profiles/c/commerford-comerford-martin-33rd-regiment/
[4] West Australian Record, November 10th 1892.