Archived News Item
Catherine McAuley Catholic College at Medowie Opens Doors To First Students
February 9, 2021
Principal Scott Donohoe with year seven students Lola Hardin and Justice Victoire in front of a statue of Catherine McAuley
A new learning faith community in the Mercy tradition has opened in the Newcastle-Maitland Diocese. 
Lola Hardin received a welcome surprise when she arrived for her first day at the Hunter's newest school, Catherine McAuley Catholic College in Medowie.
"I did not think it would be this fun," said Lola, 11.
"I was very nervous when I first came here [this morning] but I feel very welcome here. It feels like a fresh start and it feels really good to be making history."
Lola was one of 180 year seven students, along with 90 year eight students, who were part of the school's foundation cohort that started on Wednesday
The day began with a traditional Welcome to Country and smoking ceremony, before principal Scott Donohoe addressed students in the chapel.
Students then toured the school and participated in getting-to-know-you and team building activities with peers and teachers. Formal classes will start on Thursday.
Mr Donohoe, who was appointed at the start of 2019, said welcoming students to the site felt "surreal" and was a "momentous occasion".
Students are travelling from as far as Stroud and Bulahdelah to attend and staff have relocated from as far away as Adelaide and Darwin.
"It's been such a long wait I think there's incredible excitement, there's some nerves there as well, there's a real energy though, the students have just come in really happy and can't wait to get started," he said.
"I don't think they understand yet the privilege of starting at a new school because they are in a position, as our staff are, to influence future generations.
"My belief is in 100 years the culture will be impacted by this day and how we set the tone."
The school is being constructed in six stages.
The $42 million first stage comprises the chapel, early education centre and the two-storey main building, Coolock House, where screens displayed the message 'History in the making'.
Hunter artist Julie Squires' sculpture of Catherine McAuley – who founded the Sisters of Mercy – stands outside.
Mr Donohoe said he was pleased to hear the modern spaces being compared to a university campus and said they reflected a new way of thinking about teaching and learning.
"If we're going to empower our young people we need to create an environment where it's relaxed, with boundaries and standards obviously, but where our students own their learning," he said.
"Our vision for learning over the years is that gradual release of responsibility where eventually you loosen the reins and have kids drive their own learning… it's about developing in them the independence to be both life and career ready.
"It's not a matter of throwing out the things that work, it's an opportunity now with a clean slate to change some practices to better engage our young people with their learning."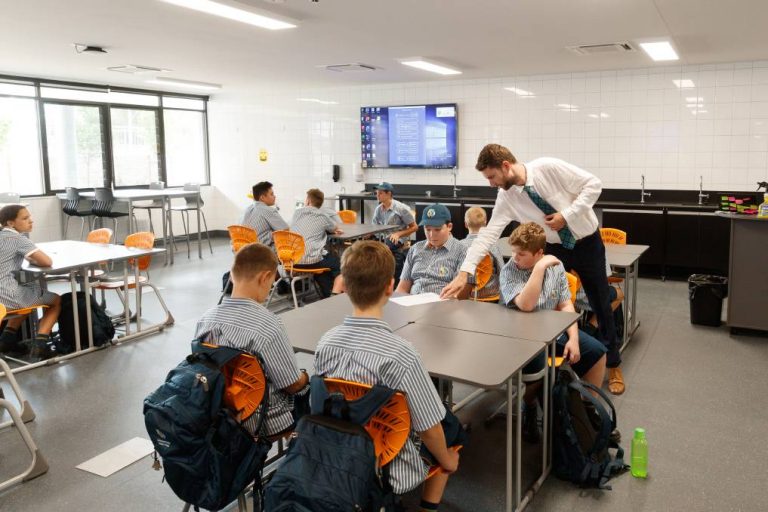 Students will have independent learning plans, meet with learning advisors every fortnight and attend three 100-minute periods each day.
Students will be in Wati Discovery House for years seven and eight, Watha Endeavour for years nine and ten and Bathu Horizons for years 11 and 12.
The school has worked with the traditional Worimi people on a number of elements, including its visual identity.
Mr Donohoe said good schools were built on strong relationships and he hoped students were able to tell their families they felt part of something special.