Archived News Item
Responding to the Holy Spirit
August 30, 2021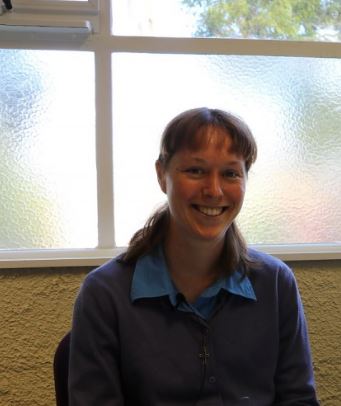 Recently, for the Australian Catholic Women's Consultation, I was privileged to be asked to share my experience of ministry as a woman and what has made that possible. To start with a broad statement, I would like to say that I feel the Holy Spirit has been urging me forward and supporting me from behind in ways that never cease to amaze me.
Firstly, I have had good role models in church ministry. I grew up in the Uniting Church, where we had both male and female ministers. My dad was a lay preacher and mum ran the Sunday school. And then I went to a Catholic school and we had fantastic priests who I looked up to. I joined the Catholic Church, followed by my siblings and mother. I received so much from the faith leaders in my life, and I valued Jesus and the Church community so much, that I wanted to give back with my life what I had received.
From the age of seven, I felt a call, or an urging, or a dream to become a priest. Since then, I have been very fortunate to know many inspiring and encouraging priests, as well as Sisters, Brothers, Deacons, Bishops and Lay Pastoral Ministers. I can only minister myself because I stand on the shoulders of those role models who have gone before me.
Secondly, I have been given opportunities and formation. I became a reader when very young and an altar server in grade 5. Today, finally, I could say a lector and an acolyte. I started to study theology and when I entered the Sisters of Mercy, 13 years ago, I was supported to continue my theology studies, eventually completing 6 years of Bachelor and Masters, focusing on liturgy. I was also given the opportunity to do the Ministry Formation Program in the Adelaide Archdiocese along with learner deacons, chaplains and pastoral associates. This might sound normal for a Sister, but that's not necessarily the case at all.
The vocation of Sister and the vocations of pastoral and liturgical leader are not the same, although they may intersect. And it was real gamble for the Sisters, because I would contribute nothing to the Mercy institutions and probably earn very little money for their investment. I have been able to work for dioceses for over 4 years without pay, only because I am part of a large enough religious order that has been able to support me. And being a Sister, I know, has opened the way more for me than for other women in the same ministry, because people connect with the history of the Sisters and I am not so much seen as a threat.
At the same time, as Sisters, we have ongoing formation, discernment, supervision, contemplative dialogue and participative models of leadership. I am so grateful to the Sisters who have supported me to follow this call within the charism of Mercy.
Of course, as a Mercy, I have been privileged to become not just a minister to, but friends with those on the margins, to work alongside people who are homeless, in prison, seeking asylum, young, remote, of various cultural backgrounds and with intellectual disabilities. In all these encounters, what has really stood out for me is where we connect the space of life, suffering and celebration; and the space of prayer, liturgy and sacrament. That place of connection influences both and it is such a special and different space. For example, I loved being a chaplain in a maximum security men's prison. But the most meaningful time was when I helped at Mass or led a liturgy within.
Something was released and found for the men in that space, and for me too. It is at those times that I have felt most affirmed by God and by others and blessed in my calling – that I am in exactly the right place. And I have so many people to thank, who have asked me to lead Liturgies of the Word with Holy Communion, to train and support others to do the same, to fill in for remote priests for a weekend or the Easter Triduum, to lead memorial services for the dead, to be another person to pray with while the priests hold Reconciliation, to write reflections on the scriptures and to preach at many Masses and other liturgical events.
When I or the Sisters seem to have other plans for my life, the Holy Spirit keeps opening up instances of exactly what I had dreamed about. As I am always aware, I have been extremely privileged and I recognise that many others have suffered much hurt in the world and in the Church. In any position of leadership we have a responsibility to see the interconnectedness of all suffering and work to build integral justice and peace with every person and the whole Earth community.
Now I am a pastoral worker and chaplain in a rural high school, and from the outside my ministry might seem diaconal. However, I honestly don't know what pathways young women see in the future for them in the Church. Where I am now doesn't get a mention in vocations talks and I wouldn't know what to tell a seven year old with a sense that God is calling her. But I would like to think that my ministry, and the ministry of other women, might be for them a sign of hope.
Messages to: elizabeth.young@mercy.org.au