Unveiling of New Sculpture in Bathurst on December 12
November 16, 2022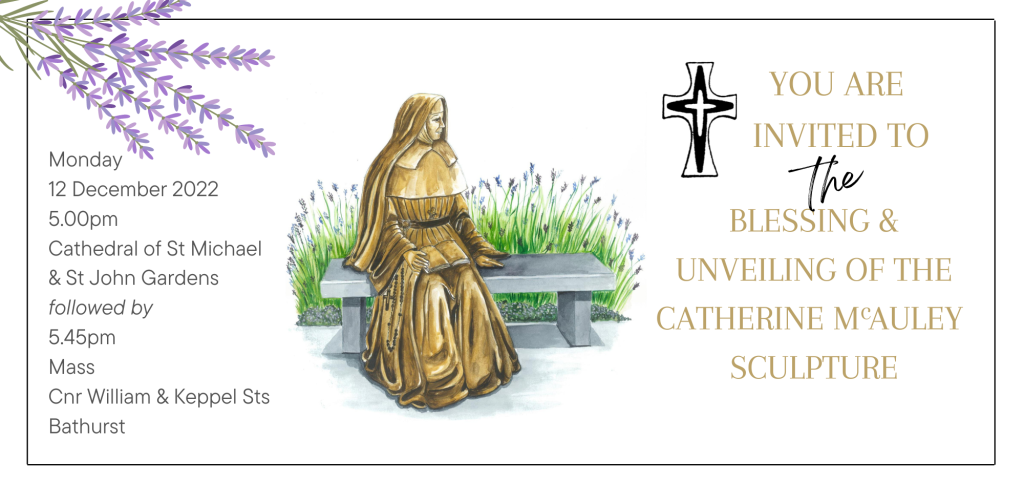 Bishop Michael McKenna will officiate at the
reception and blessing of the new sculpture
"Come Sit Awhile: Catherine in the Garden"
and two images of St Mary's College on the cloister wall,
gifted to the Diocese by the Sisters of Mercy.
The Sisters of Mercy would like to invite you to the unveiling and official blessing
of this striking new artwork by sculptor Gael O'Leary
which depicts the foundress of the Sisters of Mercy, Venerable Catherine McAuley.
Gael's extensive artistic career began as a teacher, painter, and printmaker.
Since discovering her calling and talent in sculpture,
her work over the past three decades has been predominantly in bronze
and includes many large commissioned works, some up to five metres.
The artwork will be installed on the grounds of the
Cathedral of St Michael and St John, Bathurst
at 5pm, 12 December 2022.
The Diocesan community, Mercy Associates and
past students of St Mary's College
are warmly invited to attend the blessing and join the Sisters
in the celebration of the 5.45pm Mass,
followed by light refreshments.
Please join us.