Archived News Item
YOUTH – MERCY – FESTIVAL
December 7, 2015
Sisters of Mercy were delighted to join 3000 young people from across Australia at the Australian Catholic Youth Festival in Adelaide last week.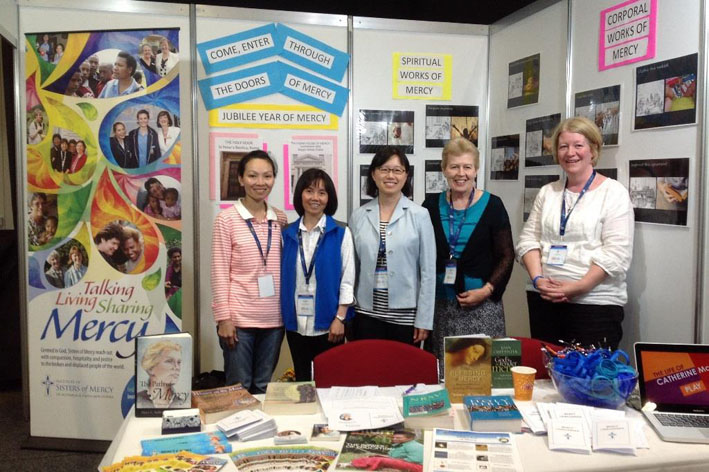 ISMAPNG's stand at the festival invited young people to 'Come Enter Through the Doors of Mercy in the Year of Mercy' and provided an opportunity for reflection via a pictorial display featuring the Corporal and Spiritual works of Mercy.
Information about becoming a Sisters of Mercy and various other aspects of the works of ISMAPNG was also available. Hundreds of brochures and bookmarks with information about becoming a Sister of Mercy were taken by young women who visited the stand, which was one of sixty as part of the exhibition space.
Wristbands and pens at the stand featuring the words 'ISMAPNG Sisters of Mercy: Blessed are the merciful' were popular. A large number of young people also took the Mercy Challenge which was an interactive game in which they had to find five scriptural quotes featuring mercy. It was particularly wonderful to see many former Mercy students from throughout the country come and say 'hello!'.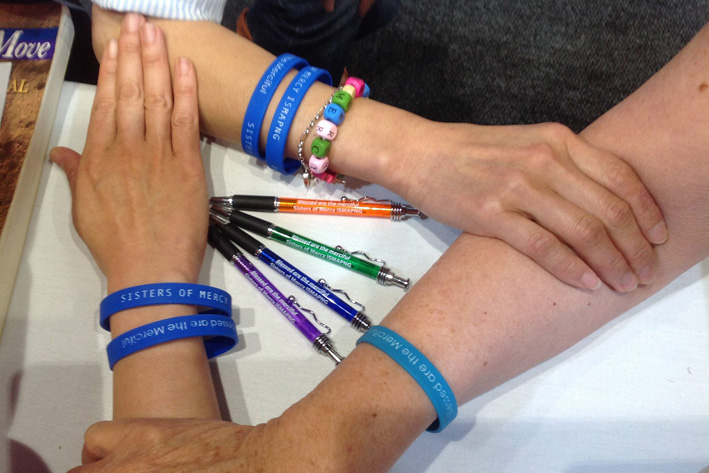 Port Augusta Sister of Mercy, Elizabeth Young rsm was on the organising committee of the overall event and was also responsible for conducting one of the evening prayer sessions. One of the most inspiring sessions was an opening address by South Australian Governor His Excellency the Honourable Hieu Van Le AO, who as a former Vietnamese refugee challenged the young people to remember how lucky they are to be able to live in Australia and attend an event such as the festival.
At the conclusion of the three days, it was announced that the next Youth Festival will be held in Sydney in 2017.
Messages to: Joan Doyle rsm
Top photo: L-R: Srs Mai Nguyen-Doan, Duyen Thi My Nguyen, Michelle Goh, Joan Doyle and Ali Roach