Archived News Item
YOUNG MERCY LINKS IN ACTION
September 10, 2015
Kaitlyn Krahe has been keeping herself busy!
A member of Young Mercy Links, she has been actively involved in working with vulnerable people in the community, through her commitment to regular tutoring of children in St. Alban and being part of a community meal program in West Heidelberg. Since graduating from OLMC, she has been studying Paramedicine at Victoria University.
Kaitlyn has been actively involved in seeking justice for Asylum seekers held in detention, and has been vocal in her stance against the forced closure of remote aboriginal communities in Western Australia. In May she was part of the team that presented a very successful justice evening on Asylum Seekers and refugees.
Currently, Kaitlyn is working hard as co-manager of a campaign called 'Break the Cycle 2015'. Will Beck and Safi-McCarthy-Adal embarked on the ride of a lifetime at the beginning of August, travelling from Cairns to Melbourne geared with only their pushbikes and the bare essentials as part of the 'Break The Cycle 2015' campaign.
As well as being a play on words, the campaign title 'Break The Cycle' alludes to more serious issues. The group are striving to tackle social apathy head on by challenging the widespread attitudes of indifference, hopelessness and even ignorance towards critical issues in society like mental health, social violence, homelessness and the abhorrent treatment of refugees and asylum seekers.
They hope to help 'Break the Cycle' of inherited poverty and disadvantage bred by inter-generational apathy by raising social awareness and $10,000 to support the fantastic work of the Asylum Seeker Resource Centre, Edmund Rice Community & Refugee Services and McAuley Community Services for Women. Their planned trajectory will take them approximately 4000 kilometres along the east coast of Australia, with the hope of returning to Melbourne during October by tackling upwards of 80 kilometres per day.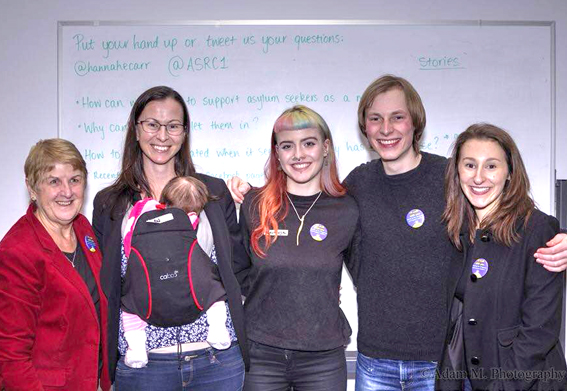 "We believe that people do care about these issues and want to help, but many aren't sure how they can contribute to resolving them or underestimate their own potential to make a positive and lasting change", Kaitlyn says, "We believe that the everyday person who commits to small but frequent and sustainable action is a great force to be reckoned with, but it is up to each individual to mobilise themselves and commit to being the change that they want to see in this world."
While Will and Safi continue their journey, Kaitlyn is working on the ground in Melbourne to coordinate donations, run fundraising events and publicise the cause.
Their journey can be followed on their Facebook page entitled "Break the Cycle Campaign 2015" (http://www.facebook.com/breakthecycle2015) where regular updates will be posted by Will and Safi about the ride and information about upcoming fundraising events to be held in Melbourne can be found. Donations of money can be made via Break The Cycle's gofundme account.
Drop off and pick up of other donations can be arranged by contacting Kaitlyn on 0412 365 897.
Messages to: Young Mercy Links