Archived News Item
Young Mercy Links holds eco-justice forum
July 1, 2009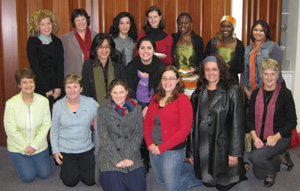 Young Mercy Links, an initiative of the Melbourne Sisters of Mercy for young women and men interested in social justice, recently hosted a forum on eco-justice. The group's co-ordinator, Catherine Phan, says: "We wanted to not only be exposed to facts and figures, but also to the real stories of the consequence of global warming on small island nations, as well as action that could be taken."
Climate change is a global issue which invariably affects each and every one of us. Living in Australia it's difficult for us to fathom the human cost of climate change. Young Mercy Links this year decided to focus its forum on eco-justice, particularly given the commitment for the cause by the Sisters of Mercy. The forum was held at the Academy of Mary Immaculate in Fitzroy on Sunday May 31, 2009. We wanted to not only be exposed to facts and figures, but also to the real stories of the consequence of global warming on small island nations, as well as action that could be taken.
Young Mercy Links had two wonderful guest speakers in Ellen Sandell, an ex Young Mercy Links member who is currently the Victorian Director of the Australian Youth Climate Coalition; and Emeretta Cross, a Kiribati and Tuvaluan woman involved in various projects such as Oxfam, Friends of the Earth, and Pacific Calling Partnerships.
Emeretta shared with us the passion she has for her culture, and the plight of her family and people still residing on these low-lying regions. Emeretta spoke of her childhood, and the possibility that soon the islands where she grew up, would no longer exist above sea level.
Ellen was able to then give those attending the forum, an opportunity to hear about many different ways that young adults with a passion for justice and equality, could make a difference and be a voice for those without.
A truly inspiring afternoon was had by all with amazing acapella entertainment by Kundalila. Kundalilia singers include four young women, two from Zimbabwee and two from Australia. There is an incredible depth to their voices and to the languages in which they sing. Their original material tells stories of courage, hope and the search for equality of life for all peoples, especially those who are most disadvantaged.
We finished with a delicious afternoon tea prepared by the Asylum Seeker Resource Centre Catering.
From: Catherine Phan, Co-ordinator of Young Mercy Links
YOUNG MERCY LINKS gatherings are held every month. Participants share stories of volunteer involvement and reflective analysis of justice and global issues are shared. For more information, contact YML@melbmercy.org.au