Archived News Item
Young Mercy Links – an update
March 9, 2011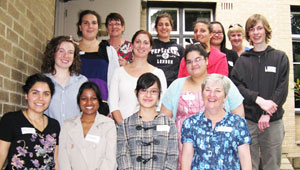 In 2006 Young Mercy Links Victoria was launched. This initiative has its roots in "Seeds of Justice", a network for senior students in Mercy Secondary Schools in Victoria. It draws inspiration and commitment from our Melbourne Congregation Chapter Direction Statement 2005, particularly the words:
'GO OUT… WELCOME IN … '
The purpose of Young Mercy Links is to offer education, support and guidance to young adults who wish to continue to grow their commitment to mercy and justice in our world. In Mercy Links they have the opportunity to get involved with action through volunteer service and also to reflect 'in a spirit of mercy' on that experience within a supportive social group.
In 2010 Val Mooney was appointed to the role of Project Coordinator with the continued support of Margaret Moore RSM and Sally Bradley RSM.
The 2011 Orientation Day for Young Mercy Links was held on Sunday 20th February at St Mary's College Parkville. The day was attended by fourteen enthusiastic young adults and also Val, Margaret and Sally. We began the day within the framework of the mercy story. Carmel Crawford, Mercy Ethos Coordinator, shared Catherine McAuley's story with us in a truly inspiring way. This session was followed by three of the Young Mercy Links members, Melissa, Carla and Elisa sharing stories of their recent visit to Cambodia. During their time in Cambodia they linked up with Denise Coghlan RSM, who has lived and worked in Cambodia with the Jesuit Refugee Service for twenty-two years. These three young women shared truly powerful stories highlighting the resilience, courage and hope that they experienced in meeting the Cambodian people.
In the afternoon we reflected on the framework of reverent "Companionship" – offering hospitality, walking side by side, deep listening and accompaniment. It is within this framework that we place all our voluntary work with marginalised communities.
Planning then took place for the three justice forums in 2011 which Young Mercy Links members will lead. The themes for these forums are:
The Cambodian story – our call to action and support. (April)
Asylum seekers and refugees in Australia – how should we respond? (July)
Homelessness in Victoria – the growing reality. (Sept)
In a ritual at the end of the day each young adult present made a commitment to giving regular time to volunteer work with marginalised people, contributing to opportunities for education in justice both local and global, and to supporting one another in Young Mercy Links including inviting and welcoming other young adults to this network.

It was encouraging to see the enthusiasm and commitment that these young people expressed for justice in our community and world. It was a very rewarding for day for all who attended and we look forward to a very active and involving year for the group as we work together locally and nationally. Across the Institute, Young Mercy Links is part of the broader Mercy Young Adult Network (Co-ordinator Kate Garrone).

Val Mooney (Coordinator), Margaret Moore RSM and Sally Bradley RSM