Archived News Item
Young adults focus on Sudanese community
October 28, 2008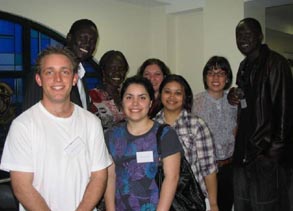 Two years ago on International Human Rights Day (December 10), a group of young women and men gathered for the launch of Young Mercy Links. YML recently hosted an event for their larger network of Mercy Secondary School students and other young adults exploring the theme "Searching for Justice: The Melbourne Sudanese Community". Frances Meese reports.
A Young Adult Forum – "Searching for Justice: The Melbourne Sudanese Community"
On Saturday September 13, the Young Mercy Links group in Melbourne gathered again to host an event for their larger network of Mercy Secondary School students and other young adults.
The theme we chose for this gathering was "Searching for Justice: The Melbourne Sudanese Community". The Sudanese population in Australia is growing rapidly, and we feel that it is important to reach out to this new community, and to make an effort to understand their culture, their history and the challenges they encountered on their journey to Australia, so that we can learn to live alongside them as neighbours and friends.
We spent the afternoon at Academy of Mary Immaculate College, Fitzroy, hearing the inspiring stories of three young Sudanese people. The first speaker was Akoc Manheim. Akoc is the Director of the Sudanese Lost Boys Association of Australia, and is completing a degree in International Relations at RMIT.
The term 'Lost Boys' refers to the many young boys from Southern Sudan who were forced to leave their families and live in military training camps from a young age. Many of these boys were able to flee from these camps and make their way to a refugee camp in Kenya, and some were lucky enough to leave the refugee camp for a new life in another country. These boys lost their families, their homes and their identities whilst on the run in Sudan. After arriving in Australia and being confronted with a new society and culture, they are still lost.
The Lost Boys Association creates a sense of community for these young people and bridges the gap between the Australian and Sudanese community so that the difficulties of settling in a new country can be overcome.
Akoc also gave us an insightful overview of Sudan's political history to help us contextualise the conflict. He finished off by expressing his gratitude for his new life in Australia, but explained that this feeling is bittersweet, as he feels guilty that many of his family members are still affected by the conflict in his homeland, which is a long way off achieving peace.
Santino Kuol, another lost boy, comes from a similar background to Akoc. He too was separated from his family in Sudan and eventually made it to Australia, where he lived with an Australian family as a young teenager.
Santino expressed his despair at the situation in Sudan, his frustration with the corrupt politics of his country, which is greatly influenced by oil, and his inability to find a solution to the myriad of problems experienced in Sudan. He is passionate about spreading his knowledge of Sudan to Australian people, so that our government can put more pressure on the international community to make changes in Sudan.
We finally heard from Ajak Kwai, a Sudanese woman who had a different experience to Akoc and Santino and spoke with wisdom about her perception of the issues in Sudan. Ajak chooses to spread her message through song, and we were lucky enough to witness her perform some songs she wrote herself about the importance of peace, community, and making a difference.
After hearing three different versions of the challenges faced by Sudanese people both in Sudan and in Australia, it was time to have a bite to eat. The Asylum Seeker Resource Centre supplied a tasty spread of African finger food and this gave the audience, the speakers and the Young Mercy Links members a chance to have a chat, ask questions and network.
Some representatives from the Edmund Rice Tutoring Centre were also present and gave us an opportunity to sign up for their projects, as many young people wanted to become active in working with the Sudanese community following the presentation.
Overall, it was a very informative and interesting afternoon, and we enjoyed the opportunity to meet members of the Sudanese community and other young people who were passionate about raising awareness and getting involved.
From: Frances Meese, on behalf of Young Mercy Links (YML).
An initiative of the Melbourne Sisters of Mercy, YML is co-ordinated by Sisters Margaret Moore, Sally Bradley and Victoria Cobb.