Archived News Item
You Nourish My Spirit
May 25, 2014
A small group of us were delighted to have the opportunity to participate recently in a retreat with the theme "You Nourish My Spirit", at Zilzie, near Rockhampton. This retreat was facilitated so skillfully by Sr. Kate Conley rsm from Adelaide.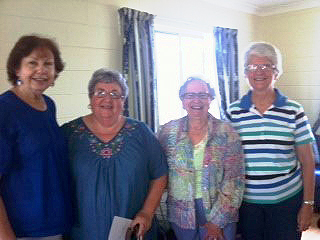 The gathering was an outcome of the "The Retreat and Spirituality Forum" held at Randwick in October 2013. On that occasion Kate shared her recent ministry experience of offering a Retreat over several years to the Teachers and Staff of Mercedes College in Adelaide.
The aim of this gathering at Zilzie was to make the retreat and to follow it up by a day to critique the program and to explore the possibility of opening it to others. We had in mind partners in our Mercy Institutions as well as Parishes.
Torrential rain did not dampen the spirit of the participants who were Sr Joan Sibberas (Melbourne), Sr Grace Bartolo (Rockhampton), Sr Rose Cavallo (Rockhampton) and Ms Trudy Clarke Director of Mission/Manager of Pastoral Care of Mater Health Services North Queensland (Townsville).
In individual reports written at the conclusion of the retreat all the participants expressed deep appreciation for the depth of sharing and the blessings received during this time as well as a commitment to explore avenues to take this venture forward in our own regions.
Srs Kate Conley, Joan Sibberas, Rose Cavallo, Grace Bartolo and Mrs Trudy Clarke.
Messages to: Sr Kate Conley
Sr Grace Bartolo
Photo L-R: Trudy Clarke, Rose Cavallo, Joan Sibberas, and Grace Bartolo