Archived News Item
'You Need a Big Bottom to Sit on Air!'
March 27, 2018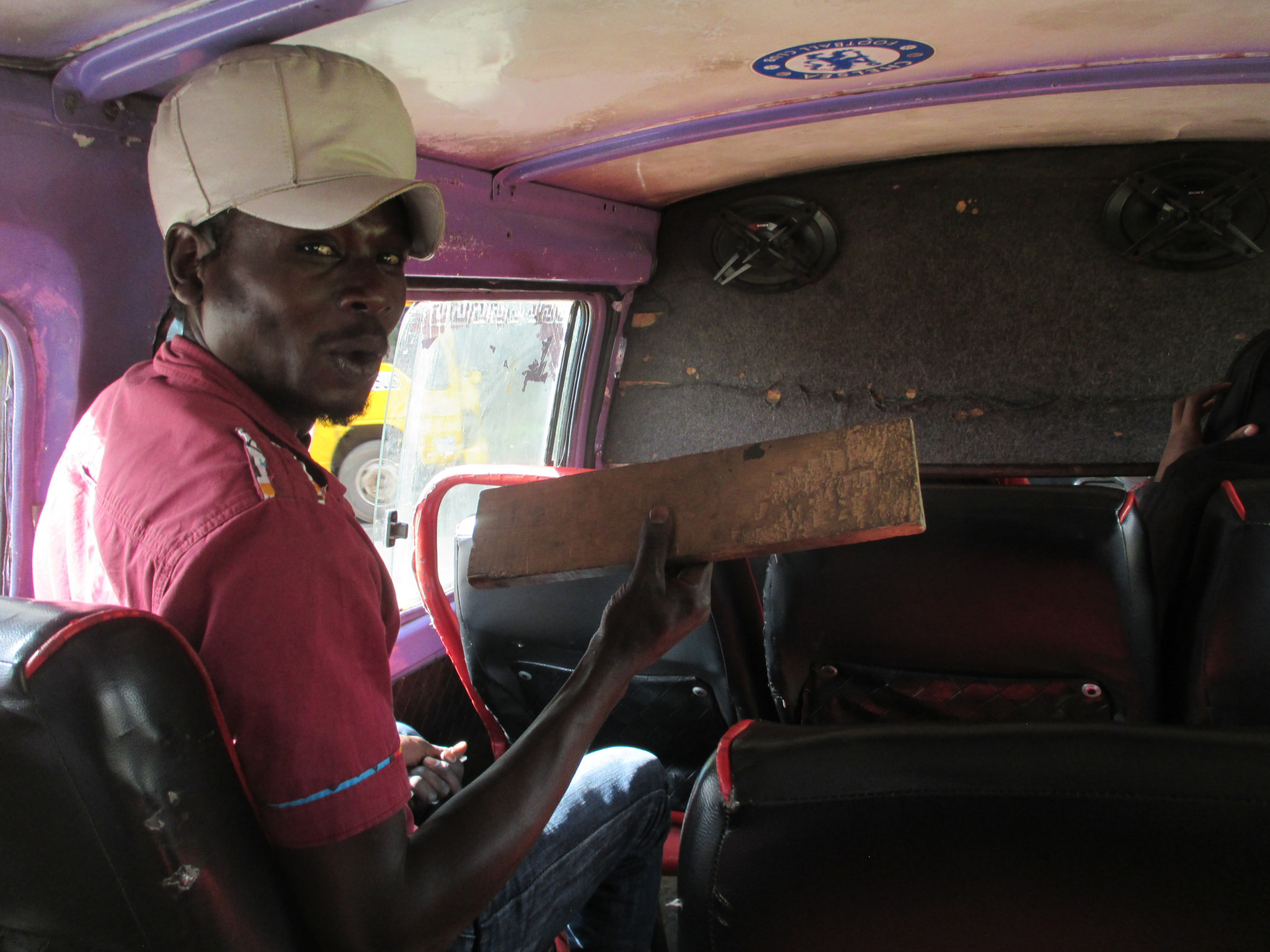 Cathy Solano RSM shares the daily commute she and Nicole Rotaru RSM undertake to the office in Nairobi,  a journey she describes as 'sitting on air'.
Our commute from home to the office and back each day involves catching a "matatu": a minivan that is the common means of public transport in Nairobi. It is a push and shove battle to get on board in the morning and evening peak hours and Nicole and I have stood back to avoid the stampede and have seen up to four jam-packed matatus drive off in a cloud of thick black diesel fumes.
There's no timetable that they follow and three can come in quick succession, then we have to wait a long time for another to come. Still, it's the best way to get to work because even when there is the worst traffic jam they are completely fearless: mounting the "footpaths" to get around the jams, creating an extra lane or two on the narrowest of roads where there isn't one and squeezing in front of other cars just to get a little ahead. It is rare to have the privilege of sitting in the front seat but after Nicole had the experience she refuses to do so because she can't bear all the near misses. There are few drivers who "take on" matatus and most know that there is no point in directing any road rage at them.
Legally they're supposed to ferry only 14 passengers but we have counted 21 on board. That's the record so far. A simple and ingenious help to achieve this is a 30 x 10cm plank of wood that is given by the makanga (tout) when all the seats are already occupied. This little plank is placed as a bridge across the space between seats. There are all shapes and sizes of bottoms, naturally, and most are able to be plonked onto this plank. However not all matatus have these comfy extra seats and this situation then requires careful positioning by Nicole and I when we board a packed but plankless matatu. Her petite frame allows her to squeeze into the smallest of places and my robust shape allows me to "sit on air"- literally! I am grateful that I don't need a plank because my bottom easily spans the 30cm aisle space and I have at least 5 cm extra on each side by which I can be balanced on the edges of other passengers' seats. It's not so comfortable, even with all my padding, but it is enough to ensure that I don't fall through.
It is also amazing to witness how the makanga collects the fares from each person. Most hand over the correct change but we've seen him (rarely "her") collect notes of 100, 200, 500 and 1,000 shillings. How he remembers who gave him what is impressive. Passengers usually wait up to five minutes before their change is given but in the end he always gives the correct amount to each one. He is able to jump on and off the matatus even whilst they're moving and he is really good at convincing people to get on board. A very amusing trait they have as they pass you on the roads is to invite you on – even if you are walking in the opposite direction! The end of most matatu rides results not only in flat cheeks but also with each little bone in our ears vibrating long afterwards from the amplified music of Bob Marley and the latest rap artists like Mwafrika and AKA. I have tried plugging my ears but their meaningful lyrics come to mind at the oddest times… one line from M.Anifest "never needed a chair" is particularly ironic…
Messages to: Cathy Solano RSM and Nicole Rotaru RSM