Archived News Item
Yarnup: young Australians connecting with local Indigenous
August 18, 2008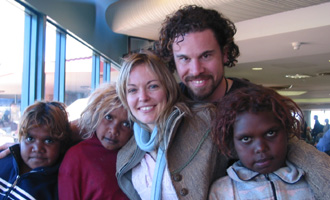 Mercy Works Inc. believes that education has the potential to transform people and communities. Creating opportunities where people can listen and dialogue about issues of concern is another strongly held belief of the agency. Mercy Works is proud to support initiatives that foster these ideals. The Yarnup project is one such initiative.
Yarnup aims to encourage connections between young Australians and Indigenous people, and in so doing, develop a greater understanding of Aboriginal history and culture.
Established as a pilot project in early 2008 by Melanie Hogan and Uncle Bob Randall, Yarnup uses as its foundation the award-winning film Kanyini. Directed and produced by Melanie, the film explores the story of Indigenous Australia through the eyes of Uncle Bob, who is an elder of the Yankunytjatjara people, one of the traditional owners of Uluru, and a member of the Stolen Generation.
According to Melanie, Yarnup takes the Kanyini experience a step further by connecting with Australian schools and creating a support structure around the film.
"The idea is to use the film as a starting point to kick-start a relationship between the school and the local Indigenous community.
The students are encouraged to run their own film screening and invite the local Indigenous community to the event.
"We see this film screening as an action that says to the Indigenous people, 'we as a group of young Australians want to listen and learn from our Indigenous brothers and sisters. We want to know both sides of history and wish to move forward together'.
"Once the students know who their local Indigenous elders are, they are then encouraged to spend a special day with them to learn more about the sacredness of their local area and the local Indigenous culture."
Melanie and Uncle Bob are very excited they have the financial support to undertake this initiative.
"We need to develop strong relationships with the students and the local Indigenous people for the programme to be a success. That's why we've created two support roles within the Yarnup Operating Team – a support person for the students, and a support person for the Indigenous people. This, we hope, will ensure sustainability of the programme," explains Melanie.
The Yarnup pilot project involves 30 schools in New South Wales and runs until the end of June 2008. After that, Melanie and Bob hope to roll the project out nationally.
About Mercy Works Inc.
Mercy Works Inc. supports the local and overseas relief and development activities that are part of the vision and mission of the Institute of Sisters of Mercy of Australia.
The programmes engage in partnerships with communities to promote justice, self reliance and to support displaced people and communities who are denied access to basic resources such as education, health care and social welfare.
Would you like to partner with Mercy Works Inc. to work towards justice for Australia's Indigenous peoples? Find out more.