Archived News Item
WYD08 Cross and Icon visit Bathurst
February 21, 2008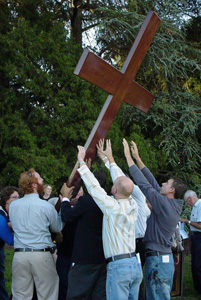 Last week the World Youth Day (WYD) Cross and Icon visited Bathurst. After a Civic Reception on Mount Panorama and a Mass of Welcome at the Cathedral, the Cross and Icon were carried to St Joseph's Mount. Here the young people of the parish had prepared a Way of the Cross around the grounds, and the Sisters of Mercy led an all-night prayer vigil in the Chapel. Sister Patricia Powell RSM (Bathurst) reports on the event.
The power of the symbols to attract young and old was striking: the gigantic cross – sign of contradiction – at once suffering and transforming love; the icon of Mary – bearer of the Divine – expression of the feminine compassion so desperately needed on our planet.
These symbols touch into something primal in human experience as well as something familiar in Christian experience. Their presence against the backdrop of the Rahamim Ecological Learning Community at St Joseph's Mount reminded us that the whole of creation is involved in the unfolding story of the universe and salvation history, and that people and planet are integrally connected within these stories.
Messages to: Sister Anne-Marie O'Beirne RSM (Local Communications Facilitator, Bathurst)
Email: annmaree.obeirne@mercy.org.au