Archived News Item
WRAPPED IN MERCY
December 7, 2015
AN UPDATE TO THE STORY BELOW – January 19, 2016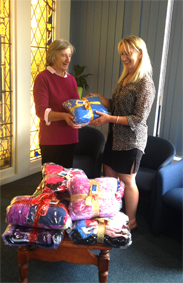 Lynda writes: Sr Carmel McCormick rsm (left) collected 10 beautifully hand kitted blankets today. The blankets will be given to patients in palliative care at various Mercy Hospitals and to the Refugee Centre in Footscray. I would like to thank everyone so very much for your generosity and help in giving a beautiful gift of Mercy to someone in much need of love and hope, without you this wouldn't have been possible. I am hoping that this initiative could be ongoing and recommence in winter as this is a good time of the year to knit together over a good cup of tea.
"We should be shining lamps giving light to all around us."
Catherine McAuley, Retreat Instructions. P 155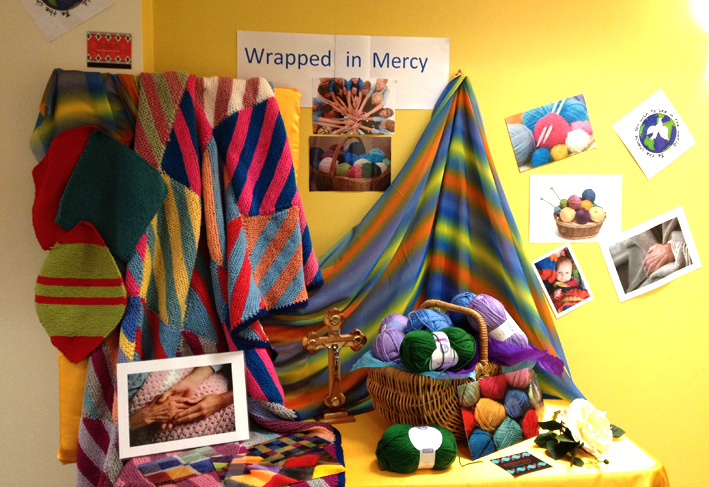 The inspiration for "Wrapped in Mercy" began with the Sisters who are knitting for patients in palliative care.
"Wrapped in Mercy" commenced in September this year and is a joint collaborative effort with the South C Community Sisters and the Alphington Office staff which has spilled over to people outside the Institute. Staff and Sisters were invited to support critically ill patients in palliative care by knitting a square that would be sewn together to make beautiful blankets.
This initiative has been wholeheartedly embraced by all. Numerous squares have been knitted and our first blanket has been completed. Squares are continuing to be knitted and our second and third blankets are almost completed. The support and generosity of spirit by everyone has been incredible. It has been a pleasure listening to staff tell me their knitting stories and I would like to share just a few with you.
The first story is about a staff member who has worked at Alphington for several years and explained that at lunchtime she was often quiet because she felt she didn't have anything in common to talk about with her work colleagues. She now looks forward to lunchtime as staff and Sisters come together every lunch time to knit and share their friendship – knitting the gift and friendship and unity.
The next story is about a staff member who took her knitting to her mother and told her about the initiative. Her mother thought that was the most beautiful thing. Now they are knitting together sharing their love and memories – a very bonding time.
There have been many beautiful stories of staff knitting past midnight, staff learning to knit for the first time and the challenges of learning a new skill, hearing of a patient who has received a hand knitted blanket that put a beautiful smile on their face.
A very big thank-you to all the Sisters who have knitted with the staff and crocheted the squares together this has been greatly appreciated. I feel that this has been an amazing opportunity for us to work as a team, to grow to be better people and reflect our Mercy values.
I thank everyone for their support and getting involved as without you this couldn't have been achieved. Thank you for giving the gift of Mercy.
Lynda Woods Mercy Support Services, Alphington Victoria.
Messages to: Lynda Woods
Photo – Holding the blanket: Lynda Woods MSS Alphington