Archived News Item
WORLD WAR II ON OUR DOORSTEP
March 9, 2016
ISMAPNG Archives and Heritage are currently working on several Oral History projects to generate a more comprehensive history of the Sisters of Mercy in Australia and Papua New Guinea. With collections from the many independent Congregations who now form the Institute, there is a rich resource at our disposal.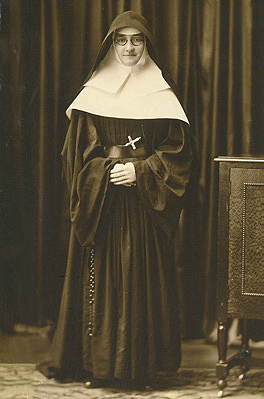 In the Townsville collection we hold a number of oral history interviews, including one from the late Sr. M. Chanel Casey (pictured). Sr M. Chanel was evacuated to Winton during World War II and was also present in Railway Estate, Townsville during the final part of the war. The following excerpt describes the Townsville Sisters' experience of air raids during the war.
'Down at the school Father had a trench at his place but it was closed in and we went in there one night when the siren had blown and it was real spooky because … you expect when you came out the whole town had blown away. You didn't know what was happening. So we said we would rather be out in the open… So we were going over to his place this day for the air raid and it was Sunday afternoon and it was my job to get the tea that night and I had made a cake and it was on the table. I had just got a new pair of shoes and they were lace ups and the siren went about ten to six in the afternoon. Cause everybody was running over to the presbytery and I said 'blow it'. If we are bombed we have nothing to eat so I ran back and got the cake. And got my shoes and tied them around my neck …And the all-clear blew and then in the convent we had our tea. And then a little while after that a real raid came around about eleven o clock at night. And then we ran down to the trench … and I think every search light in the town was on the plane. You could see the plane … It was like a big boat, you know, in the air. And all lit up. You couldn't take your eyes off it and everyone was saying 'get down!, get down!'.

The Japanese bombed Townsville three times in July 1942 and the Townsville Sisters of Mercy witnessed these events at close range from the safety of their trench. Thankfully, the only casualty of these air raids was some local vegetation. This oral history provided by Sr. M. Chanel is a valuable means of understanding their war experience and of providing others with a picture of the war that is perhaps not generally widely known.
Messages to: Jane McGee ISMAPNG Archivist