Archived News Item
World Refugee Day in Kiunga
November 27, 2011
On June 20th, the United Nations marked World Refugee Day. While the UN held a varied programme of events around the world to raise awareness of refugees, one small event in Papua New Guinea told a powerful story of an often forgotten group of refugees. In 1984 15,000 West Papuans crossed the border from Indonesia to PNG. some were political activists, some resistance fighters, but all with the same aspiration – to live free lives. They settled in camps near the border. Three years later the PNG Government and the UN High commission for refugees (UNHCR) offered them a choice: go back to Indonesia, relocate to official refugee sites elsewhere in PNG or stay near the border without any UNHCR services. Around a third chose to stay in their current location. They were designated 'border crossers', not officially refugees UNHCR had no mandate to follow them up.

Border crossers
Status as a 'border crosser' is particularly dangerous, especially for the children of border crossers born in PNG. They are at risk of being 'stateless' which can lead to problems. with no travel documents many struggle to find employment and access services. For the last 25 years, the parishes along the border have been doing what they can to integrate the west Papuans into the community. The children are able to attend the parish schools and access education.
Recreating the journey
This year the children of some of the border crossers decided to mark World Refugee Day by recreating the journey their parents made. Many of the children were not even born when the original journey took place. They talked to their elders, gathered stories and information and staged a re-enactment of their parent's dangerous journey over the border. some children represented the refugees while others played the roles of Indonesian soldiers attempting to prevent the border crossing. Despite wet weather, a good crowd attended the re-enactment which proved to be an emotional experience. The border crossing has become an important part of this communities cultural identity. Sr Maureen Sexton braved the rain and attended the event which she felt was important in lifting the recognition of the issues faced by refugees in the border areas. 'It's slowly leading to a lot of awareness and recognition that PNG is a significant host of refugees and, despite their own very limited resources have been very open to refugees.'
Mercy Works in the Western Province
In collaboration with other local partner groups in PNG, Mercy Works supports a range of community development projects including: maternal and child health care; women's leadership and skill development; education and training support for west Papuan refugees; and skill development for at-risk young men in sustainable agricultural practices and small farming businesses.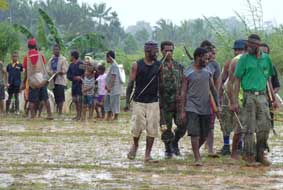 Young West Papuans re-enact the original border crossing in 1984.