Archived News Item
World leaders to meet about MDGs in September
August 19, 2010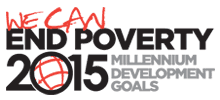 Earlier this year, United Nations Secretary-General, Ban Ki-moon called on world leaders to attend a summit in New York from September 20-22. Institute Justice Co-ordinator, Carmel Heagerty RSM, asks: What is the focus of the meeting and who will it most benefit? Meet the people, hear their stories and consider your response.
"We must not fail the billions who look to the international community to fulfil the promise of the Millennium Declaration for a better world," said UN Secretary-General, Ban Ki-moon.
With only five years left until the 2015 deadline to achieve the Millennium Development Goals (MDGs), UN Secretary-General Ban Ki-moon has called on world leaders to attend a summit in New York on 20-22 September to accelerate progress towards the MDGs.
Coming amid mixed progress and new crises that threaten the global effort to halve extreme poverty, "the summit will be a crucially important opportunity to redouble our efforts to meet the Goals," he said, referring to the targets adopted at the UN Millennium Summit of 2000, aimed at slashing poverty, hunger, disease, maternal and child deaths and other ills by a 2015 deadline.
"Our world possesses the knowledge and the resources to achieve the MDGs" the Secretary-General stated in his report in preparation for the September summit.
"Our challenge… is to agree on an action agenda to achieve the MDGs."
Source: We Can End Poverty 2015: UN Summit 2010
BE ACTIVE AND RESPOND
"My Story, My Goal" presents human face to MDGs
A group of multimedia graduate students teamed with media students in Africa and Asia to tell stories that attempt to personalise the Millennium Development Goals.
Each team found personal local stories that shed light and insight on critical global issues, including poverty, maternal health, environmental sustainability, universal education, gender equality, HIV AIDS and children's health.
Have a look at some of these powerful multimedia stories:
Mercy International Association, Mercy Global Concern. Sisters of Mercy work across the globe in a variety of projects focussed on alleviating human suffering.
Millennium Villages demonstrate that it is possible to escape extreme poverty that traps hundreds of millions in sub-Saharan Africa. Be Inspired, View Footage, Meet the People.

UN Summit 2010. Download "Keeping the Promise: United to Achieve the MDGs", the "zero draft" agreement for the September 2010 UN MDG Summit.
Contact: Carmel Heagerty RSM, Institute Justice Co-ordinator
Email: Institute.Justice@mercy.org.au