Archived News Item
WORKING TO CLOSE THE GAP
June 1, 2015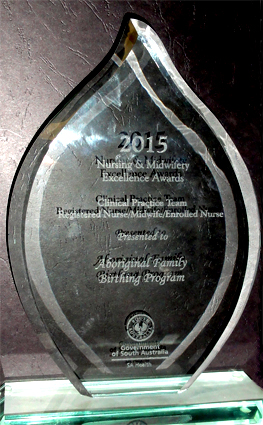 Late last year the Aboriginal Family Birthing Program in Country SA celebrated 10 years of working to close the gap on Aboriginal life expectancy. Midwives and Aboriginal Maternal and Infant care workers (AMIC) work in partnership to maintain cultural safety and respect for women during the care provided for them in pregnancy, birth and postnatal period.
According to the Findings from the Aboriginal Families Study in South Australia, 2015, Australian Aboriginal and Torres Strait Islander families experience markedly worse maternal and child health outcomes than non-Aboriginal families. Aboriginal and Torres Strait Islander women are three times more likely to die during childbirth compared with other Australian women, and two to three times more likely to have a stillbirth or neonatal death, preterm birth, and/or low birthweight infant.
However, in the areas where the Aboriginal Family Birthing Program has been implemented, the program has expanded access to culturally responsive antenatal care for Aboriginal women and families. The positive experiences reported by many women using the program have the potential to translate into improved outcomes for Aboriginal families.
[Source: https://www.mcri.edu.au/sites/default/files/media/documents/afs_birth_2015.pdf]
This month, at the 15th annual South Australian Nursing and Midwifery Excellence Awards, our midwives from Country Health SA received an award for best Clinical practice team. In accepting the award, Anne Foale rsm said: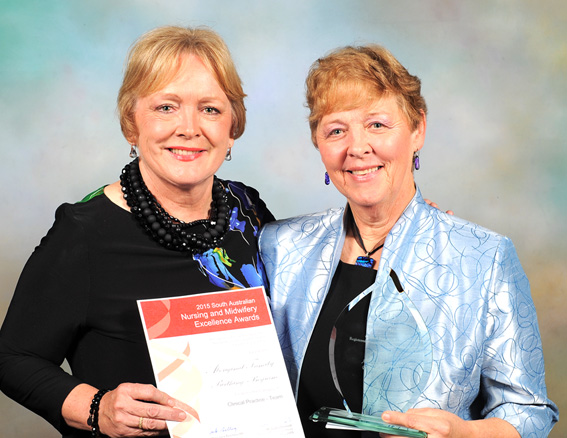 Thank you to the Nursing and Midwifery office for making these awards possible. It is truly a privilege to represent the midwives within the Aboriginal Family Birthing Program across Country South Australia.
As you can imagine it is an ongoing challenge and privilege working cross culturally to provide the best possible birthing outcomes for Aboriginal women and their families. Other models have been tried in the past with very limited success. Now it seems we have hit a on a really good model that is producing the outcomes that everyone is longing for: closing the Gap in life expectancy for Aboriginal families. It is fitting to pay tribute to the Aboriginal women, their families and their AMIC workers who have contributed to the development of the program and its ongoing success.
We acknowledge the important partnerships between Aboriginal Community Controlled Health Organisations (ACCHOs); South Australia's Aboriginal Health Council, the registered training organisation for the AMIC workers, the Women's and Children's Health Network and its Centre for Education as well as the various Health Service sites around Country South Australia. And lastly, we acknowledge Deanna Stuart-Butler who is with us this evening, who is SA's first AMIC practitioner from Port Augusta and is now managing the AFBP program for Metropolitan Adelaide. This program would not exist if she and her AMIC colleagues did not come to work each day working with a foot in two worlds. We acknowledge that this work is very much reconciliation in action.
Thank you.
Messages to Anne Foale rsm
Bottom photo: Representing the Country Health SA Midwives are Mrs Therese McCallum (left) and Anne Foale rsm