Archived News Item
WOMEN BAND TOGETHER
August 25, 2016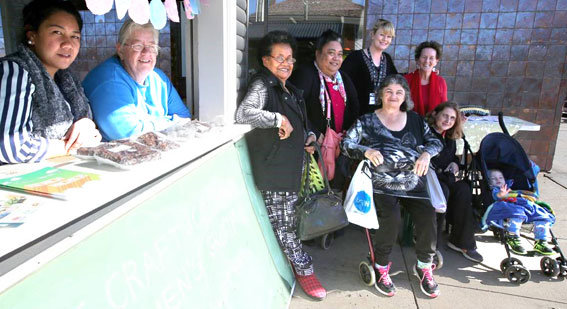 The ladies were all part of the 'art, craft and cooking women's group run by the Western Riverina Community College (WRCC) and Ability Links, helping women to make community connections.
Mercy sister Tricia Johnson volunteers her time with the group to help run activities and said while the group produced beautiful things, it was about more than arts.
"The women who have come may have been isolated for any number of reasons because of language or culture, education, disability, transport, they may be just someone who is feeling a bit lonely or who is facing barriers," she said. "We have done a number of activities arts and crafts together, cooking, they made baby clothes and we have all learned new skills and made new friends."
The group's efforts were realised at their stall on Wednesday where they sold the results of their hard work to raise money for ovarian cancer and to allow them all to go out for dinner and continue the support and connections the group has given them. "They all enjoyed it so much they have asked us to run it again and at the ladies suggestion we are going to do something with computers next time, a tech-savvy course," Sister Johnson said.
Member of the group Nancy Toga said she had become involved as a result of her husband's cancer diagnosis, wanting to do anything that could raise money to help others suffering from cancer. "I joined because I want to help people and the ladies are all very kind," she said. "In the group I have learned a lot of things and made lots of things that now we are selling to raise money."
Fellow member Gail Cummings proudly displayed her talent at the stall, but it was clear the group meant more to her than craft. "I loved being a part of something like this," she said "We loved making jokes with one another and tormenting one another "I have really enjoyed it, we all chat and have become friends, we all love the course and none of us want it to end."
If you would like to become involved contact WRCC
Photo and article by courtesy of the Area News, Griffith, NSW
Messages to: Tricia Johnson rsm
Photo L-R: Sharon Manu, Elizabeth Hanson, Nancy Toga, Judy Leoleoga, Olivia Gee, Gail Cummings, Tricia Johnson, Renee Lawler and Logan Hocking.