Archived News Item
Witnessing bearers of Christian hope
June 18, 2009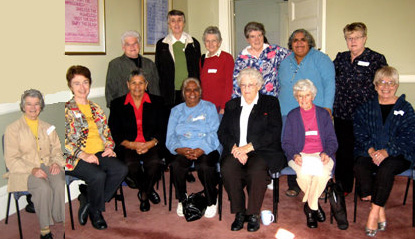 Sister Celestine Pooley RSM (North Sydney) reports on a recent gathering which included Indigenous people from the NSW north coast, Sisters of Mercy, students and teachers. Celestine says it was "an unforgettable journey through experiences of enormous pride, of grief and pain, of amazing resilience and hope".
A storybook lens into an experience of Aboriginal history and culture
On the first weekend of May a small group of Mercy women from across NSW came together at North Sydney for one of our regular gatherings to share experiences, listen and encourage each other in our common goal to build up partnerships and relationships with our Aboriginal friends in order to learn from them and be guided and informed in our actions.
We value the Aboriginal input of those women who have walked with us on our journey over a number of years and we extend our learning by inviting others to share their experiences with the group.
This year we were privileged to have some members of the Aboriginal community from Kempsey join us on the Saturday – Mavis Davis, her husband Cyril, and Eileen Campbell – along with some 40 interested people from various groups in surrounding areas, and a number of students and teachers from Monte Sant' Angelo Mercy College. The students attended as part of their preparation to visit the Mutujulu Aboriginal community later this year.
What followed was an unforgettable journey through experiences of enormous pride, of grief and pain, of amazing resilience and hope. A central part of the presentation was the artwork of Eileen's late husband, Robert Campbell (1944-1993) of the Ngaku people from Kempsey.
Described as "one of the first generation of urban Aboriginal artists", he drew on both Aboriginal and modern Australian culture as inspiration for his art. In the words of the artist, "I paint about things that touch me personally, whatever has happened to me personally." (From "Obituaries", The Independent, Saturday July 17, 1993). To view a sample of artist's work click here.
Robert's artwork provided the lens through which Mavis told and relived their story. Like many Aboriginal people, she was an engaging and natural storyteller. From the point of view of the audience, it was like having a picture storybook opened and as its pages turned slowly each image conveyed a poignant message captured so directly and yet so simply by the artist. We were caught up in the experience and our own emotional reaction.
It unfolded as a story in three parts, beginning in a time when their culture was alive with the beauty and spiritual meaning of the land, an integral part of their Aboriginal identity. The practices showed clearly they had the answers on how to protect the land both through their ancient knowledge and by taking just sufficient for their needs.
It was truly a spirituality of 'enough' and a challenge to our consumer mentality today! Respect for nature and its creatures formed the basis of their lived experience in those earlier days and gave a unity to their way of life and worship of God. One could sense the pride in Mavis' voice.
The second part of the story was very different – one of trauma and tragedy. Here the paintings took on something of a stark and graphic quality. Many of those present had heard of the demeaning practices Aboriginal people had been subjected to – allowed into the first few rows of the picture theatres only, in the dark, then herded out again before the lights came on; being barred from public swimming pools and other public places.
They had served in the wars alongside other Australian men as equals, but came back to find they were not allowed to drink with their mates at the hotels, and their names not even recorded among the lists of service personnel. There were the 'dog tags' which exempted some Aboriginal men from the so-called 'protection laws' – a further set of prohibitions on ordinary activities that other Australians took for granted.
The attitudes behind these practices were even worse, displaying blatant racism in action, reinforced by the stereotyping which, sadly, still continues to this day, although usually more hidden. Aboriginal people spend a considerable amount of their time going to funerals. The "Deaths in Custody" Mavis described as a 'legal' way of killing Aboriginal people.
Stories of the heartbreak endured by the Stolen Generation have become all too familiar. Mavis called it the 'Slave Generation' and spoke of its ongoing effects into the next generation. She commented with great sadness, "A whole generation of children have been lost to society". Their children are now trying to straddle two worlds and find some purpose and meaning in their lives. And we know the stories that tell us many of them aren't doing well!
But this story wasn't going to finish on a tragic note. While the images on the screen were fewer, the rest of the story reflected hope and an amazing determination to continue the struggle to retain their dignity and work for their rights.
Mavis' tone was energetic as she related the efforts of all three of them to bring about changes in the Kempsey Aboriginal community. Her husband, Cyril told us about a programme he conducts with young Aboriginal boys in school holidays, taking them into the bush where they learn about their ancient culture and the ways of their elders. Mavis and Eileen related with pride some of the programmes they had set up and the things they had achieved. And they have their hopes and dreams for the future.
The storybook was closed for this audience. But the ending had yet to be written. These three people were well aware that the road ahead would continue to be rough, but there was much more to do. In lamenting how long it had taken for us non-Indigenous Australians to acknowledge our true history, Mavis remarked, "The Germans teach their history – we hide ours!" Mavis, Eileen and Cyril were determined to do what they could to change that. They had a purpose, and a major part of it was to continue to tell their story and in doing so, honour the rich legacy of Robert Campbell's art.
I felt we were a privileged audience to whom these three Aboriginal people had entrusted their sacred story that day. I asked myself, "What is our responsibility in receiving it?" The story seemed to demand an active response.
Throughout the telling Mavis had, from time to time, almost unconsciously, punctuated her narrative with a rhetorical question or comment. When recounting some of the most demeaning practices, she exclaimed, "Who are the civilised people here!?" Of some of the tragic stories of the Aboriginal youth today, she asked with deep emotion, "Where does it stop?" And another simple plea, "Just show us respect" – a very basic right we all take for granted!
These and others like them, leapt out at me like short, sharp jabs that would linger in the memory. The most positive step would surely be to take up their invitation, "Be our friends – come and be with us so we can walk and work together in the journey ahead!" Perhaps, this is best summed up in the words of a song Cyril sang at the conclusion of this gathering:
"We're all God's children, his next of kin
That's the way it began.
No matter where we're going, or where we've been,
We're part of the family of Man."
Mavis had spoken at times of the strength she had found in her Christian faith. In the story we had had unfolded to us it struck me that here today we had witnessed three people who were truly bearers of Christian hope.
From: Sister Celestine Pooley RSM (North Sydney)