Archived News Item
Will you take up the challenge to be a global citizen?
June 9, 2010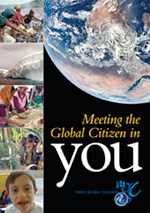 Mercy Global Concern, the organisation representing the Sisters of Mercy at the United Nations, has produced a new publication that explores what it means to be a global citizen in a vulnerable world and in a wider cosmos.
Published earlier this year, Meeting the Global Citizen in YOU is a very accessible pocket-sized resource that would assist teachers, students, faith-based reflection groups or anyone interested in making the world a better place.
To order copies of Meeting the Global Citizen in YOU, email Deirdre Mullan RSM on Email: mercyun@aol.com