Archived News Item
Wilcannia-Forbes elects new leadership
November 7, 2010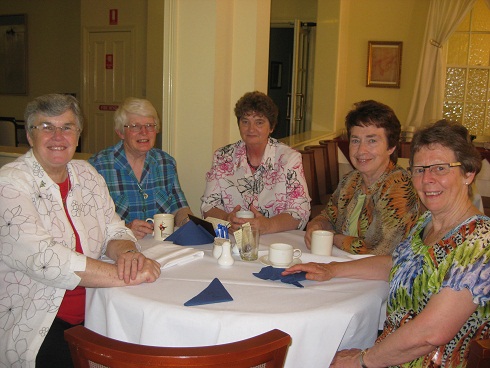 At the recent Elective Chapter of the Wilcannia-Forbes Congregation held at Anderledy Lodge, North Sydney from October 27-30, Marie Ralph RSM was elected as Congregation Leader.
The following sisters were elected as councillors: Carolyn Nolan RSM (Vicar), Daphne McKeough RSM, Christina Aitken RSM and Carlene Allen RSM.
Caroline Ryan RSM (Institute Vice-President) presided over the election of the leader. Anne Lane PBVM facilitated our days together. Father Barry Dwyer, our Wilcannia-Forbes priest, offered the Mass of the Holy Spirit at the opening of the elections, while Caroline Ryan RSM gave the reflection.
From: Nance Cale RSM

Statement from Wilcannia-Forbes Chapter 2010

We Wilcannia-Forbes Mercies respond to God's call to discover anew our identity.
We gladly accept the call to move beyond that identity to a new and emerging life and mission.
In our unanimous vote we chose to move to the new Mercy Entity, and we now wholeheartedly affirm the call of the 6th Institute Chapter, 'Longing for God's Mercy'.
We will always cherish the foundations of our Wilcannia-Forbes Mercy life and those who have journeyed with us. We will attend to the issues that arise during this time of transition. We will celebrate and ritualise our endings and continue to build new connections.
We believe that by embracing a contemplative spirit we will more clearly reflect the compassionate heart of Jesus as we reach out to each other and to those in need.
At this final Chapter we acknowledge the blessings and graces that have enlivened and supported us throughout the many years of our own Wilcannia-Forbes journey.