Archived News Item
Wilcannia-Forbes Congregation Gather in Brighton SA
November 3, 2011
With the advent of the new Institute Sisters of the Wilcannia Forbes Congregation will be in three different communities. We are holding gatherings in Adelaide, Sydney and Parkes to mark the ending by "Celebrating the Journey." The first event took us to Brighton, Adelaide on October 4 and 5th.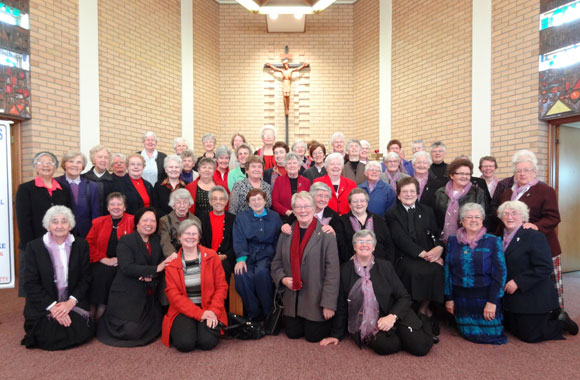 We visited former schools, convents and our sister graves on the Saturday. On Sunday we joined the Parish community at St Joseph's Church Brighton, which has been central to the life of the Sisters of Mercy there throughout their history. In the school, and amongst the people, the charism of Catherine McAuley has found expression through the life and ministry of numerous sisters. Many of us who gathered here for this weekend have been part of the local Mercy Outreach in Brighton and other suburbs in Adelaide.
The Church was packed with Sisters of Mercy of the Wilcannia Forbes and with parishioners who recalled, and rejoiced in, the Mercy presence in Brighton over nearly one hundred years. We were particularly happy to welcome many Sisters from the Adelaide Congregation who joined us in this event that builds our common bonds. Wilcannia Forbes sisters were easily identified by the mauve scarves that we wore for the occasion (each in her own individual fashion!) We entered the assembly in procession, following a specially commissioned banner depicting all our foundations. In welcoming all, Congregational Leader Marie Ralph said that we came "in a spirit of thanksgiving for the journey we have been on since the foundation of our Congregation and in a spirit of hope, longing to experience ever more fully the loving kindness of our God; longing to contribute, ever more richly, to the great mission of God's saving love and mercy in our world".
As a special sign of our commitment, all the Sisters of Mercy gathered in the sanctuary after the homily, renewed our vows and sang our special mercy song 'The Suscipe' of Catherine McAuley – a very moving moment for our sisters, and for the congregation, witnessing this joint statement of our commitment. We marked the occasion with a photo of all sisters present, before moving to the Parish Activity Centre for lunch provided by the sisters and served by the generous ladies of the Parish.
The Sisters of Mercy of the Adelaide Congregation expressed their delight at receiving personal invitations to this Eucharist and luncheon. They appreciated their involvement in the Eucharist and the celebration, with the Parish, of our journey 'into the New'.
A senior parishioner sang a poignant song 'Silver Threads Among the Gold' – naming something of the unspoken sense of times past and passing. We wound up the gathering with a full voiced chorus of 'Viva La Compagnie' – our unofficial 'theme.
In farewelling the sisters at the conclusion of the weekend, Marie said "The spirit of the members of the Wilcannia-Forbes Congregation has, we feel, been unique – a true family spirit where we truly care for each other. The canonical Wilcannia-Forbes Congregation may be dissolved but the spirit of its members will survive. Separated perhaps geographically, with new and unfamiliar leadership, we will, while generously entering into the new entity, always retain our Wilcannia-Forbes spirit, our Wilcannia-Forbes concern for each other and our Wilcannia-Forbes means of communicating with each other. We will always have somwf (which when Wilcannia Forbes ceases, can mean 'wonderful friends' in our group email address!!)"
Messages to Nance Cale RSM