Archived News Item
Wilcannia-Forbes associates visit Parramatta sisters
July 29, 2010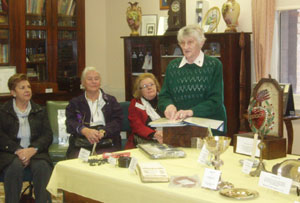 The Caringbah-based Circle of Mercy Associates Group of the Wilcannia-Forbes Congregation, recently visited the congregation centre and archives of the Parramatta Sisters of Mercy. Nance Cale RSM, who co-ordinates the group, says "everyone had an enriching and enjoyable visit."
The visit was organised through Anne Ferguson the Mission Animator of the Parramatta Sisters. At the morning tea, in gracious hospitality, Ailsa Mackinnon RSM (Congregation Leader) welcomed the associates and then Veronica Earls RSM walked us through the wonderful archives of their sisters. The associates were gripped by the courageous early history and reverenced the memorabilia shown to us.
Anne Ferguson shared with us facets and new insights into the life and story of Catherine McAuley. Many of the associates have strong connections to the Parramatta sisters; they were themselves educated by the sisters or their children were.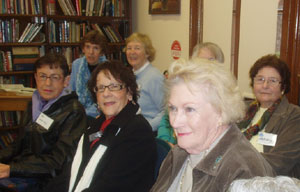 The associates attended the midday Mass in the Cathedral and then appreciated the many beautiful features of this beautiful structure. They returned to the convent and enjoyed their packed lunch at tables decorated with beautiful camellias. Much sharing took place and some of the sisters came to reacquaint themselves with old and loyal friends.
The associates were appreciative of Anne Ferguson's preparation for our visit. Everyone had an enriching and enjoyable visit to our Parramatta sisters. After all the farewells we all hopped onto our hired bus and chatter was a-plenty as we journeyed back to Caringbah. Everyone voted it was a great day.
From: Nance Cale RSM, Co-ordinator of the Associates and Local Communication Facilitator Wilcannia-Forbes.