Archived News Item
Wilcannia farewells Sisters Margaret and Flo
March 25, 2010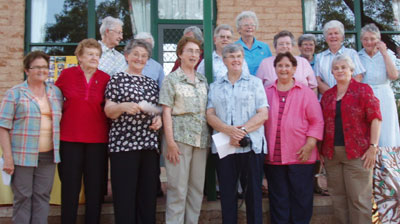 Twenty Sisters of Mercy from eight congregations of the Institute recently gathered with community members of Wilcannia in the NSW far west to celebrate and give thanks for the contribution of Margaret McGrath RSM and Florence Kinsella RSM. After 16 years of ministry in Wilcannia, particularly with St Therese's Community School, Margaret and Flo are leaving. Patricia Fitzgibbon RSM (Melbourne) reports.
On Saturday March 13, Sisters Rosemary Graham, Grace Rogers and I set out for Wilcannia to join with the Wilcannia-Forbes Mercies to celebrate and give thanks for the 16 years that Margaret McGrath RSM and Florence Kinsella RSM have shared their lives with the people of Wilcannia and especially those involved with St Therese's Community School.
Margaret saw the arrival of a former teacher who was prepared to take on the role of principal as a sign that it was time for a Mercy departure from Wilcannia.
At 5:30pm, 20 Mercies from six congregations gathered outside the convent for a leave-taking ritual with about 80 co-workers, families and friends. We were welcomed by an Aboriginal elder and Pat Lynch RSM, Congregation Leader of the Wilcannia-Forbes Mercies.
The reading chosen from Philippians 1:3-11 ("Every time I think of you, I thank my God…"), was especially poignant in the light of the obvious sorrow that many locals were feeling at the imminent departure of two very close friends.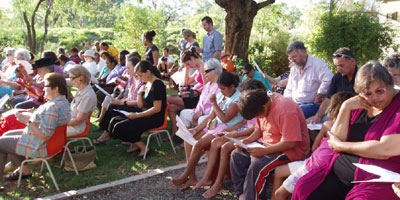 People were given an opportunity to express what they remembered, and were grateful for, because of the Mercy Sisters, and in particular, for the friendship and support given by Margaret and Flo. Some of these tributes were particularly moving and illustrated the high esteem in which these two sisters were held.
They were each given an Aboriginal painting. Margaret and Flo in turn presented the people with two large banners that had been prepared and used on Sorry Day, with the expectation that they would be hung in the hall and used on each Sorry Day Commemoration.
At the end of the ritual, Pat Lynch invited all the Mercy Sisters to come forward and sing a blessing over the people; a moving conclusion to a memorable event.
The evening concluded with a BBQ in pleasant surroundings enjoyed by adults, happy children and many flies!
The following morning we gathered at the cemetery for a ritual of remembrance and prayer to honour the six Sisters of Mercy buried there between 1905 and 1944. At the conclusion of the ritual, an Aboriginal lady who has promised to look after the graves, received a special blessing.
We left very conscious of how difficult it will be for Flo and Marg over the next weeks as they let go of all that has sustained them over the last 16 years.
From: Patricia Fitzgibbon RSM (Melbourne)