Archived News Item
Why we are Mercy Connect volunteers
June 15, 2011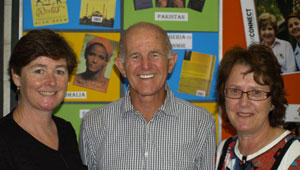 When Deirdre Crowe saw the ad for Mercy Connect Melbourne in her parish newsletter, the words 'retired teachers', 'refugees' and 'inner suburban' leapt off the page. "I thought, that's me! It was amazing," she says.
Deirdre retired from primary teaching two years ago. She has never taught refugee children but feels great empathy with their situation and believes she has skills to offer.
"I see education as being the big key for success… allowing you to have a decent life. I have a fantastic life but it's because I've been given opportunities. I want other people to have those opportunities," she explains.
At the moment Deirdre says she feels ashamed to be Australian because of public attitudes towards refugees that lack compassion.
"The media paints such a [negative] picture that people are frightened and I find that discouraging. I think that sort of fear is based on ignorance," she explains.
"I want to be proud of being Australian and there are Australians here who will help [refugees]. We're not all like this."
John Harris, a recently retired chemical engineer and university lecturer of 35 years, says that volunteering with Mercy Connect Melbourne allows him to continue his work in education and help people with difficult life experiences settle into the Australian community.
He sees his role as assisting students interpret what is being asked of them; to make the task more accessible so that they can approach it themselves.
While John has worked with students from many nationalities, he feels both challenged and pleased to be learning new skills that will help him support young refugees.
During the Howard Government years, John says he was "somewhat supportive" of the government's refugee policies.
"I think that my attitude has changed a lot," he says. "I'm starting to realise that a lot of those people are sorely dispossessed from their own countries and are desperate."
John is very aware that people-smugglers are making money by transporting asylum seekers to Australia, but adds, "when [refugees] get here I think we need to be a bit more welcoming and understanding".
For mother of four and former secondary teacher, Margaret Cosgrave, global instability and the displacement of people around the world is a big and overwhelming issue.
"I can't do anything about the bigger picture but I can help at a local level," she says.
Margaret sees her role with Mercy Connect Melbourne as an opportunity to do "something significant" within her local community.
"I've been lucky enough to have a wonderful Australian education and three of our four children have left school, and I just felt I've got some skills I can share," she explains.
In addition to her teaching skills, Margaret believes her experiences as a mother will help refugee students. "You sort of learn patience and breaking down information and listening."
She believes young people often experience a level of anxiety about school work and that part of her role is to assist students to overcome that anxiety.
Margaret is enthusiastic about her new role but admits to feeling a little challenged because she hasn't taught for a while. She says the learning experience will be two-way.
"I'll have to be led by where the student is at rather than going in with preconceived ideas. It's a mindset of being open."