Archived News Item
Who is my neighbour? Australia's role as a global citizen
September 27, 2007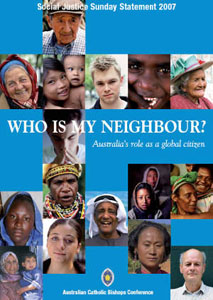 Social Justice Sunday is celebrated on September 30. This year's statement from Australia's bishops is entitled Who is My Neighbour? Australia's Role as a Global Citizen. It calls Australians to act more in the interests of our neighbours who do not share our prosperity and security.
Social Justice Sunday – September 30, 2007
Who is my neighbour? Australia's role as a global citizen
In his introductory remarks Bishop Christopher A. Saunders, DD, Chairman of the Australian Catholic Social Justice Council, invites us to contemplate the faces pictured on the cover of this document.
He says: "Each one of these people is unique. Their experiences and the particular circumstances of their joys and hopes, griefs and anxieties are likely to be just as diverse. But through this amazing diversity, we are all sisters and brothers of this world – created in the image and likeness of God. The life we share is sacred and our human dignity is to be respected."
All sisters are strongly encouraged to read the entire statement at the Australian Catholic Social Justice Council (ACSJC).
WHAT FOLLOWS ARE SOME EXCERPTS FROM WHO IS MY NEIGHBOUR? AUSTRALIA'S ROLE AS A GLOBAL CITIZEN
We Christians accept the challenge to love our neighbour, and like the lawyer in Saint Luke's Gospel, we are anxious to know who our neighbour is (Lk 10:29-37). We often want to limit our circle of concern, and perhaps the needs of those who are not close to us seem too complex or remote. We are used to distinguishing between family, loved ones, neighbours and the rest of humanity. [page 3]
This year's Social Justice Sunday Statement is a call for us Australians to act more in the interests of our neighbours who do not share our prosperity and security. It is an invitation to reconsider the way we live and act as individuals and as a nation; to ask whether our primary consideration should be our own increasing prosperity and security, regardless of the situation of our neighbours. The Statement is also a call to Christians to follow the way of Jesus in our globalised world with more hope and more heart; to work confidently to build the Church as the people of God and to view even the most alien Samaritan as our neighbour. [page 4]
Acting in solidarity
Since 1967, when Populorum Progressio was issued, Australian society has grown more prosperous, and in many ways it has become more generous. Over those 40 years, we have opened our doors to immigrants from all countries. Our protection of human rights at home has improved and we have become more engaged with other nations and peoples. Reliable research now shows that most Australians are outward looking, and are very interested in our international relations. [page 4]
Living with globalisation
When considering our global connectedness, we need to move from the head to the heart. We do the thinking but then we need to move to action. We acknowledge and understand our interdependence with others whose social and economic reality is so different from our own. We are then inspired to take action, to do something to correct the injustices and to put right the situation so there might be an increased prospect of peace, security and development for all. In other words, we move from interdependence to solidarity. [page 6]
Pope John Paul II warned that this virtue of solidarity is 'not a feeling of vague compassion or shallow distress at the misfortunes of so many people, both near and far. On the contrary, it is a firm and persevering determination to commit oneself to the common good; that is to say, to the good of all and of each individual, because we are all really responsible for all.' (Sollicitudo Rei Socialis, On Social Concerns, Encyclical Letter of Pope John Paul II, 1987, n. 37.) [page 6]
Foreign aid and development assistance
Sensitive to community concerns, the Australian Government has started to increase its commitment to overseas aid, but more needs to done. Political parties will support increases in overseas aid if citizens sincerely request it. In 2005, the Government announced a doubling of Australia's aid budget to about $4 billion annually by 2010. (Commonwealth of Australia, Australian Aid: Promoting Growth and Stability, White Paper on the Australian Government's Overseas Aid Program, 2006, p. ix.) This is an improvement, but we could and should do more. [page 8]
…if Australia is achieving its national interests, but still contributing less than its due to foreign aid, there should not be any objection to directing increased aid to countries most in need, even if those countries do not have significant relationships with us or are not geographically close. Any additional revenue available from an increased commitment to overseas aid could be directed to alleviating poverty in our own region and further afield, including Africa, without damaging the underlying principles of the Australian aid program. [pages 8-9]
Military alliances and interventions
"We invite all Australians to pray that our world will find ways other than war to secure justice, increase security and promote genuine peace for all God's people." (Australian Catholic Bishops Conference, A statement on Iraq from the Catholic Bishops of Australia, 5 March, 2003) [page 10]
The United Nations and international financial institutions
The UN remains committed to development, security and human rights, underpinned by the rule of law. … former Secretary-General of the United Nations, Kofi Annan, about the need to organise international institutions 'in a fair and democratic way, giving the poor and the weak some influence over the actions of the rich and the strong'. (Kofi Annan, Address at the Truman Presidential Museum & Library, 11 December 2006: see http://www.trumanlibrary.org/annan.htm) [page 11]
Climate change and energy policy
We are challenged to examine our lifestyles and how our choices affect our neighbours: 'There is a need to break with the logic of mere consumption and promote forms of agricultural and industrial production that respect the order of creation and satisfy the basic human needs of all'. (Pontifical Council for Justice and Peace, 2004, n. 486) This call to each individual, each community and Australia as a global citizen concerns the universal common good and the work for peace in our world. (Pope Benedict XVI, Message for World Day of Peace 2007, n. 9) [page 13]
Border protection and refugees
"Concern for refugees must lead us to reaffirm and highlight universally recognised human rights, and to ask that the effective recognition of these rights be guaranteed to refugees." (Pontifical Council for Justice and Peace, 2004, n. 505.) – Compendium of the Social Doctrine of the Church [page 13]
To read the 2007 Social Justice Statement in full go to www.socialjustice.catholic.org.au/CONTENT/PDF/2007%20Social%20Justice%20Sunday%20Statement.pdf
Further Information: Australian Catholic Social Justice Council
The ACSJC subscription service includes:
Justice Trends – quarterly newsletter addressing current Australian and world political issues
Catholic Social Justice Series – offering theological and social thought
Position Papers and Discussion Guides – addressing critical social justice issues
Social Justice Sunday Statement – the Australian Catholic Bishops' annual Justice Statement
Prayer Card and Ten Steps Leaflet, Social Justice Calendar, Ecumenical Resource Kit
Cost $30 a year
Contact ACSJC Secretariat
Email: admin@acsjc.org.au Web: http://www.socialjustice.catholic.org.au