Archived News Item
'WHAT'S IN A NAME?'
September 10, 2015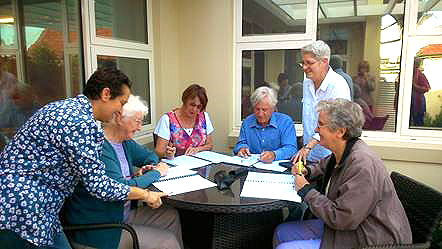 Last year the consultation process looking at future options for the Mercy Associates movement invited Sisters and Mercy Associates to give their opinion on whether to retain the current name for Mercy Associates or develop a new name. Without fail, everyone had an opinion.

Their opinions were strongly held and often very well-argued, on whether to retain Mercy Associates or move to something new. The overwhelming weight of opinion was to retain Mercy Associates as the name, yet despite the importance of democracy, in itself that wasn't a good enough reason to keep calling the movement Mercy Associates.
What else did we consider? The arguments against were compelling, with the point being made that the word "associates" implies some degree of being of secondary importance, and that the movement would never develop its own identity and independence if the implication was that Associates were those who associated with the Sisters of Mercy, rather than part of an important movement in their own right. These are important points, and were carefully thought through before the decision was made.
The arguments for retaining the name Mercy Associates were also compelling: there are about twenty Mercy Associates groups operating around Australia at the moment, and some have been in place for over twenty years. Their sense of identity is strong, and understandably they were reluctant to look at new names. A second factor considered is the knowledge that in the USA and the UK, there are strong and vibrant Mercy Associates movements in place, and there is value in sharing a common name in solidarity with a movement that is operating in other places around the world.
We also considered the nature of "association". What we realised is that Mercy Associates "associate" with two groups: they associate with the Sisters of Mercy, and this is the traditional understanding of a Mercy Associate, yet they also associate with each other. One of the major benefits Mercy Associates said they derive from being an Associate is the companionship and sharing of faith with other women and men who are also Mercy Associates in their group. In fact, being part of a group of Mercy Associates is core – this is a faith community of women and men who share a commitment as lay people to the charism of Catherine McAuley and the Sisters of Mercy.
There are strong reasons for and against the name Mercy Associates. Considering these arguments the decision has been made to retain the name Mercy Associates. However in the process of thinking this through, we have gained insights into what it means to be an Associate – an Associate journeying with other Associates, and journeying alongside the Sisters of Mercy. In the consultation input, no groups or individuals gave the impression they saw themselves as being of secondary importance: rather, they cherished the relationships they have formed with fellow Mercy Associates and with their local Sisters of Mercy and appreciated the concept of 'One Charism, Many Paths'.
Messages to: Carmel Ross
Mercy Associates Executive Officer