Archived News Item
What's new at Mercy Works?
July 4, 2008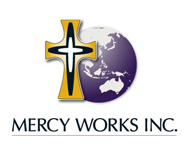 At the agency's Annual General Meeting in November last year, the Board elected a new Chair. Sister Mary Duffy, who has been a Board member since 2006, brings a wealth of wisdom and expertise to this role.
Mary has a background in education and congregation leadership, as well as extensive experience as a board member of various educational and community development organisations.
It is Mary's hope that as Mercy Works develops, good systems and policies will continue to be established, thus enabling the agency to expand its support of programmes, both in Australia and overseas.
A significant development for Mercy Works under Mary's leadership has been the ratification of a new strategic direction for the agency. From 2008 until 2010, the Asia Pacific region will be the primary focus of Mercy Works' programmes overseas.
To highlight this new focus, the Board recently commissioned the design of a new logo. Appropriately, this logo prominently features the Mercy cross sitting in close proximity to the Asia-Pacific region of the globe.
"We need to be proactive in promoting the mission of Mercy Works and in communicating our direction statement for the next three years," says Mary.
"To this end, we have just produced a promotional brochure depicting some of the projects we are currently supporting. A community education programme which we hope to offer within our congregations and associated ministries, as well as in the wider community, is also being planned."
Mary believes that fundraising is of vital importance. "Increased funds will enable us to ensure favourable responses to the many project proposals which we are currently receiving.
"I hope that we will gain the confidence and understanding of more of our sisters and colleagues in Mercy ministries, so that Mercy Works will be enhanced in practical ways
from their resources."