Archived News Item
What it's like in Australia's detention centres?
December 12, 2007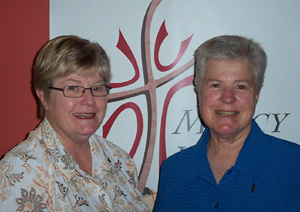 In 2006, Cecilia Rowe, a Sister of Mercy of the Grafton Congregation, began voluntary work with Mercy Refugee Service, a programme of Mercy Works Inc. Cecilia (pictured right with Sister Lorraine Phelan, Manager Mercy Refugee Service) reflects on the experience of supporting people at Villawood Detention Centre in Sydney.
As you approach the detention centre tucked away at the end of a busy industrial area, high wire fences confront you and you could think that you were about to enter a state prison. Once inside, you become acutely aware of the differences.
From my experiences of seven years working inside the state's largest maximum security remand prison, I know that prisoners are encouraged to enrol in education courses and to seek employment within the prison system. These courses are a source of self-improvement and rehabilitation, and their social aspect is a way of escaping loneliness for those locked up.
In the Villawood Detention Centre, no such formal educational or work programmes are available, apart from one English second language class for the few who are willing to participate. For the most part, these men and women wander hopelessly and aimlessly within the confines of the high wire fences. They clutch at any straw, especially in the form of a person who gives them a glimmer of hope.
Unlike inmates in our prison system, they have no idea of the length of their stay and the weary months may become years. As they experience the plight of fellow detainees being deported or denied visas after frequent court appearances, a deep depression envelops many. Sleep is difficult and the stress levels are high.
Sisters of Mercy and other religious have been visiting detainees at Villawood regularly since its inception and we are frequently asked what this involves. Sometimes we are privileged to be listening ears for many stories of distress; sometimes we give practical help in a variety of ways.
We attempt to relieve some of their material needs by shopping for necessities and various other items; we accompany individuals to the Refugee Review Tribunal and court hearings; we support family members on the outside; we make appropriate contacts to support those released from detention. We have also been instrumental, through our advocacy, in having structural changes occur for the betterment of detainees.
My experiences of the first year working with detainees at the Villawood Detention Centre are quite different from those of my years at the prison. In either situation, my heart tells me, it is easier to respond with love and compassion when the needy, the prisoner or the detainee has a name, a face and a story.
About Mercy Works Inc.
Mercy Works Inc. supports the local and overseas relief and development activities that are part of the vision and mission of the Institute of Sisters of Mercy of Australia.
The programmes engage in partnerships with communities to promote justice, self reliance and to support displaced people and communities who are denied access to basic resources such as education, health care and social welfare.
Would you like to partner with Mercy Works Inc. to support the needs of asylum seekers and refugees in Australia? Find out more.