Archived News Item
Werribee Mercy Hospital Expands To Meet Growing Population
March 29, 2017
On Monday, March 10, a ceremony was held to mark the start of works on a major expansion of the Werribee Mercy Hospital, in Victoria.
The project will see four more levels built on top of the existing Catherine McAuley Centre. When complete in mid 2018, it will deliver an extra 64 inpatient beds, eight new critical care beds, as well as six new operating theatres so doctors and nurses can treat more patients than ever before, closer to home. In a further boost, the hospital will also get a new 370-space multi-level car park.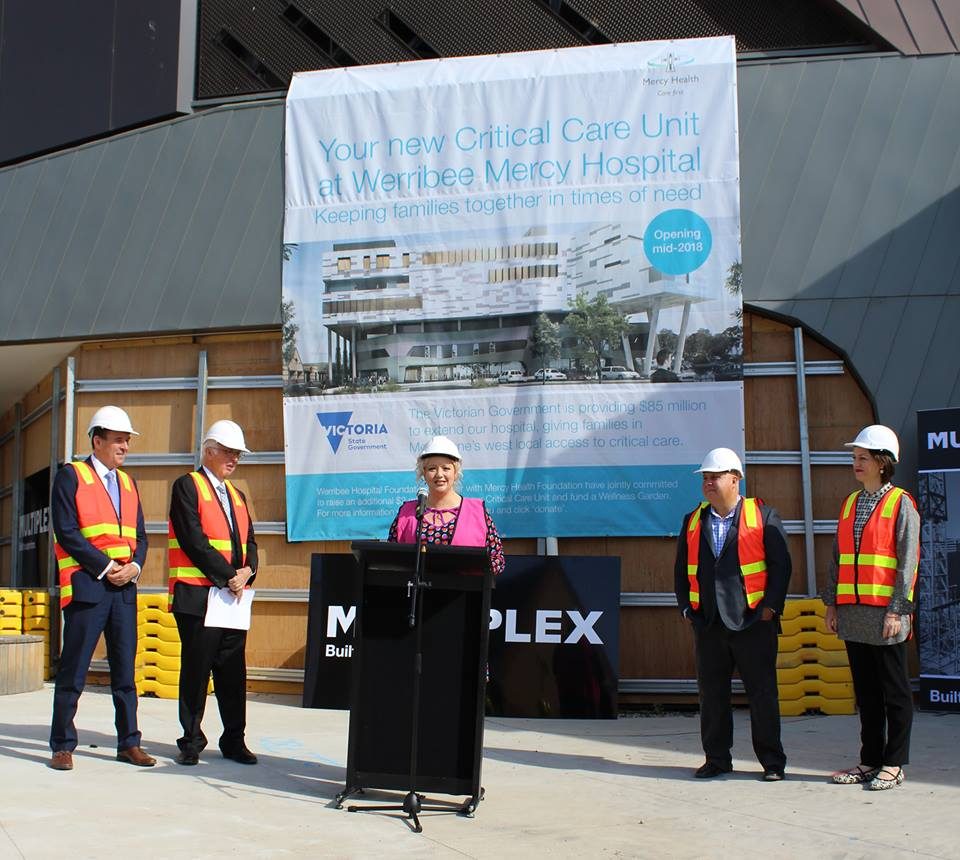 Attendees at the ceremony marking the start of construction included Community Leader, Faye Kelly rsm, Helen Monkivitch rsm AO, Julien O'Connell and Stephen Cornelissen from Mercy Health, Victorian Minister for Health, Hon Jill Hennessy MP (pictured above at the lectern) and local Member of Parliament, Tim Pallas MP.
The expansion will take the total number of beds to 298 and will seek to better meet the rapidly growing demand for health services from the Wyndham community that is predicted to increase by another 193,000 people between 2011 and 2031.The Victorian Government is providing $85 million towards the project.
"We know we need to invest now to keep pace with the soaring demand for health care in Wyndham. That's why we're getting on with building for the future so more patients in the West can get the care they need, when they need it," said Jill Hennessy, Minister for Health.
Mercy Group Chief Executive Officer, Stephen Cornelissen, said this is an exciting time for our hospital, the people of Wyndham and the wider Mercy community.
"The Werribee Mercy Hospital expansion is a credit to our people who go above and beyond every day, putting the needs of their patients and community first. Demand for health services will only continue to grow and this expansion, which will include a much needed Critical Care Unit, will enable us to better meet the community's needs and in doing so continue the legacy of the Sisters of Mercy and the One who inspires them," Stephen said.
Messages to: Kasey McCulloch