Archived News Item
WELL DONE GOOD AND FAITHFUL SERVANT
September 21, 2016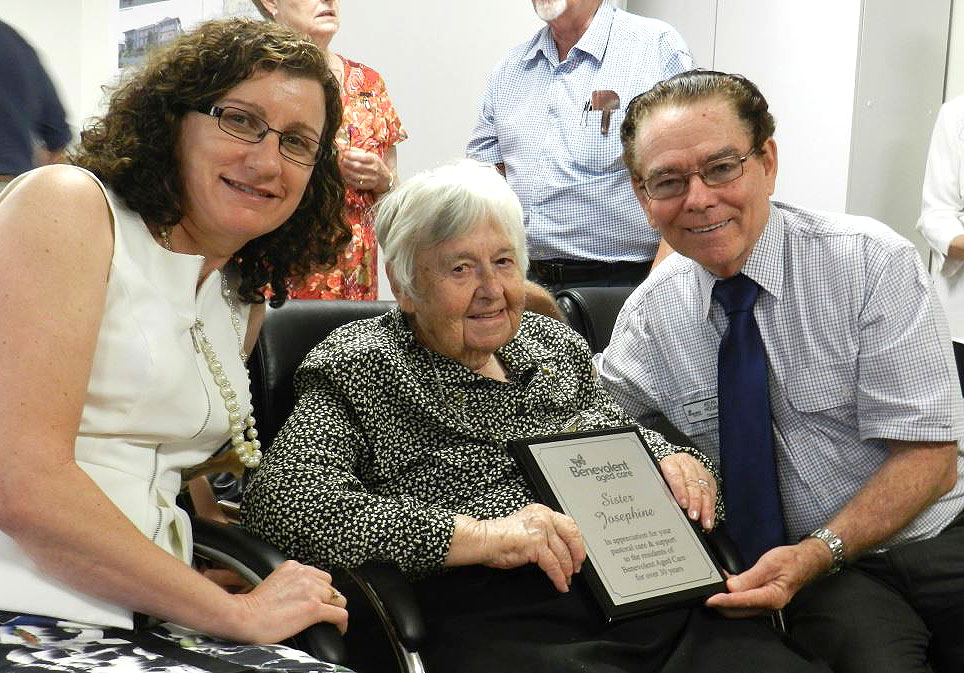 Ninety-eight years and six months ago, on January 30, 1918, a baby girl was born and named Josephine by her parents Patrick and Annie McMahon.  Her family lived in Kurrajong, described as a charming, quiet town in the foothills of the Blue Mountains, 75 kms north-west of Sydney.  From the church of St Gregory where she would have been baptised and where her family attended Mass, you could look down over the Hawkesbury River plain on a clear day, all the way to Sydney.
Her ancestral family of McMahons had emigrated from Ireland in the 1840's, possibly escaping from the oppressive conditions in that country at that time.  They would have been some of the first settlers in that area after a road to Kurrajong was opened in 1840.  Josephine said that most of the farms in that area were owned by the McMahon descendants and that the local public school where she commenced her education consisted of students who, except for a couple of the children, were from the McMahon clan.
The main source of income for the family came from farm produce, fruit and vegetables and other odd jobs which Patrick could find in the local area.  Her mother Annie, who was a musician, would also play for the dances in the local hall every Saturday night, earning the huge sum of one pound thirty shillings a night. Her careful management of the household income enabled the family to live in a relative comfort, though simple and frugal.  Josephine described her life at that time as 'happy and carefree', spending time in horse riding which she loved and playing with her sisters and brothers and her many cousins who lived close by.
The Irish Catholic faith permeated her environment in those early years. Her Irish grandmother, Mary, who lived in the 'big house' on the same property, was a devout woman.  Every afternoon at 4pm, Josephine and her siblings would gather at the 'big house' for the daily Rosary with her.  Like children the world over, they sometimes found this 'boring' and would get into mischief, crawling round the room from one chair to another, trying not to laugh or make a noise, while Grannie, oblivious to their 'shenanigans' continued to intone the prayers.
When the railway line to Richmond opened in 1926, the children were then sent to school at Richmond where they were taught by the Good Samaritan sisters.  Annie's motive was that she wanted her children to be 'religionised and culturised' by having, as she said, the 'nuns hands on you'.
The Great Depression of 1929 brought about a major change in the lives of many Australians particularly in rural communities. The sale of farm produce and orchard fruit dropped drastically and the McMahons and other people in the area were no longer able to make a living from them.   While some people converted their homes into guesthouses as a source of income, the extent of Patrick and Annie's family debt was so great that their home was repossessed.  Patrick did not handle having to get Government support and like many unemployed men who had always been the breadwinners of their families, he went into a deep depression.  With great sadness, Josephine remembered the day that Annie and her children, now homeless, had to pack up and go to the city of Sydney where they were taken in by an aunt, Annie's sister.  While Patrick had promised to send money to support them, they never received anything from him and Josephine never saw him again.  He died in 1957.
Annie managed to find a cheap place to rent in Granville and the two eldest brothers were able to find employment, sending an amount of money to their mother every fortnight.  Josephine continued her education with the Good Samaritan Sisters at Ryde where she spent two years.  Her mother could not afford to pay for a third year so she and other girls were taken on by one of the teachers, Sister Mary Leo, as teacher helpers in that area, an experience which were the beginnings of a life-long love of teaching for Jo.
By this time Josephine was thinking very seriously of a vocation to Religious Life as a missionary sister.  By chance she came in contact with the Parramatta Sisters of Mercy, an event which would once again bring major change into her life.   Josephine relates the story:  "A Sister there, Mother Gertrude had a friend in the Rockhampton congregation, Mother Cecelia. As a result of their relationship, a girl from the Rockhampton area entered with the Parramatta Sisters and I entered with the Rockhampton Sisters in January 1935".
She always spoke with great affection of Mother Aloysius, a warm loving woman who was in charge of the Novices in Rockhampton at that time. In August, that same year, Josephine became a novice and took on the name of Sr Mary Gregory, after the name of the church in Kurrajong where her journey of faith had begun.   (She would later change back to her birth name because of her great devotion to St Joseph).  Two years later on the 16th August 1937, along with her companion, Sister Mary Loreto, she professed her vows before Bishop Romuald Hayes.
Her first teaching appointment was at St Mary's school in South Mackay.  There were eleven Sisters there at the time and not enough rooms for each of them, so some had to share.  I recall my Novice Mistress, Sister Mary Patrick, who was also there at that time, telling us that they were so poor that often times they went to school hungry.  Nevertheless, Josephine remembered this period of her life as being very happy.  At this time also she undertook teacher training by correspondence and with the support and encouragement of Sister Mary Patrick she managed to gain her Teacher Education certificate.  In the years that followed, teaching was the major focus of her life taking her to almost every Catholic school in the Diocese.  She never lost her love of teaching and would often speak with great affection of her students and regale us with stories of their escapades – stories which got longer as she grew older.
My first encounter with Josephine was as a young newly professed Sister to St Joseph's Convent in North Mackay where she was the community leader and where I began my teaching career with her as Principal.  I remember with gratitude the two years I spent there, for it gave me an experience of community that grounded me in the Mercy way of life.  As community leader Jo treated each of us with great respect and included the four of us, who were Junior Professed, in all the decisions of the house, and generally created an atmosphere of inclusion and love.   She later remarked "with a homely spirit in the convent, I could put up with anything."  In this regard she was echoing what our foundress Catherine McAuley wrote in our original constitution:  "Our mutual respect and charity is to be cordial.  Now cordial signifies something that revives, invigorates and warms.  Such should be our love for each other…"
She also had a great love for the students she taught. She was well aware that many of these students came from families who were poor and could ill afford to pay the school fee of 6d a week per student and would often waive this fee.  She related the story of one father whose child was sick and away from school for half of the school week came to her for a rebate of 3d.
Jo's many years of teaching officially came to an end in 1978 when she reached retirement age, but she continued to be involved through relief teaching for short periods of time until 1984. Reflecting back on this long period of her life, she said "I was fortunate that I seemed to be able to manage children even in the very large classes we often had to teach, and I got on well with them."
Jo however, was not one to put her feet up.  She then took on Pastoral Care at the Benevolent Home in Rockhampton where she would visit the residents once a week. She would later describe this period of her life in terms of her Mercy ministry as "the pinnacle of my religious life" and that she thanked God for "using her to bring souls to God."  In appreciation of Jo's work at the end of her thirty years there, the Admissions officer of this institution, Kerry Williams wrote: "Sister Josephine shares her faith and hand of friendship with one and all…..We very much appreciate the time and spirituality that she brings to our community and the effort she makes to attend our monthly Mass."
At the same time she also took on the role of spiritual director to a local St Vincent de Paul group and visitation of the sick and elderly people in their homes usually accompanied by one of the local priests who administered the sacraments when called upon to do so.  She strongly believed that building relationships with people in their homes was important and brought as she put it 'spiritual benefits' to both.  It was only when she could no longer climb stairs two years ago that she gave up this ministry.
Jo was a storyteller as those of us who lived with her know well.  Even when I visited her in the hospital last week she was still trying to tell me a story of a man who as the result of her influence had made his peace with God on his death bed.  In spite of the fact that she was gasping for breath she insisted on finishing the story, even though I tried to suggest a number of times that she conserve her breath by not talking.  I assured her then that God's first words to her would be:  "Well done, good and faithful servant".
I am sure that when she drew her last breath in the early hours of last Saturday morning in a final response to the God she had tried to serve so faithfully throughout her long life, Jo was indeed greeted by God with these words: "Well done, good and faithful servant".
Messages to: Pat Wood RSM
Photo:
Benevolent Aged Care CEO Alison Moss and Chairman Kevin Hogan acknowledged the support and pastoral care that Josephine gave to the residents for more than thirty years – 28 October 2015.