Archived News Item
Welcoming those uprooted from their home
December 10, 2008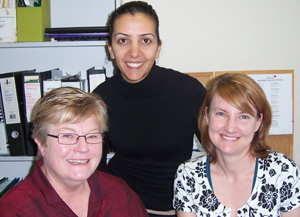 As Sister Lorraine Phelan leaves her position as Manager of Mercy Refugee Service, The Bilum reflects on her contribution to Mercy Works Inc.
WORDS BY: Stephanie Thomas
Lorraine Phelan applauds the Federal Government's recent reforms to Australia's immigration detention system.
She believes these changes are a "big first step", but adds a cautionary note: "until we actually see it's not going to be mandatory detention, that's when we'll really celebrate".
In the past 15 years, Lorraine has had extensive experience supporting and advocating on behalf of asylum seekers and refugees from countries such as Kosovo, Afghanistan, Pakistan, Iraq, Sudan, Sri Lanka and Kenya. Since 2004, Mercy Works has been the beneficiary of her expertise.
A number of things stand out for Lorraine as she looks back, particularly to the late 1990s and beyond, when increased numbers of boat people were heading for Australia's shores.
"There were lots of horrific things that happened around the boat people time", she says. "It destroyed a lot of people's lives and was very inhumane."
Lorraine was deeply affected by the treatment of people in Australia's detention centres. As a regular visitor to Villawood in Sydney's west, Baxter near Port Augusta, and Maribyrnong in Melbourne, she witnessed what many heard about in the media.
She recalls the lack of respect for people who were often suddenly released from detention with a temporary visa late on a Friday afternoon, receiving no information about where they could go and who would help them, and being told: "OK, you've got an hour to get out of here".
"This said to me that I really needed to be a contact for those people inside, for when they possibly came outside, because I had networks that I could plug them into and give them some support to start off", she explains.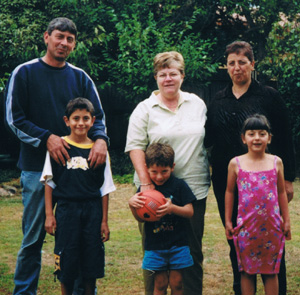 As Manager of Mercy Refugee Service, Lorraine was able to link newly arrived refugees and asylum seekers with support systems. Through the Community Links and Classroom Connect projects, she and other colleagues trained volunteers to support refugees and help them to operate more confidently in their new community.
"It's always very exciting when refugees get on their feet and are able to turn their lives around", she says.
So is Lorraine hopeful about the situation for refugees and asylum seekers in Australia?
"I think it's started to improve, but we've still got a long way to go… The government has got to put more money into supporting refugees that they've invited to come to this country."
Lorraine is highly respected in the community development sector and her experience has been sought regularly by politicians and government policy makers.
For Marist Father, Jim Carty, who coordinates the House of Welcome, in Sydney's west, Lorraine is one of the most committed people with whom he's worked. "[She is] very competent, very committed, very passionate, and indefatigable!"
Sister Rosie Carroll, Executive Officer of Mercy Works, endorses these sentiments. "She has been the person in the agency with extensive refugee experience, the contacts and the networks".
Rosie also recognises Lorraine's contribution to another Mercy Works' initiative: the School Support Programme. This was a significant part of Lorraine's role in her first year at Mercy Works. Having been an educator for many years, Lorraine enjoyed establishing this programme which continues to connect Mercy Works' projects with schools operated by the Sisters of Mercy, or those interested in reclaiming their Mercy heritage.
"Lorraine's contribution to Mercy Works has been very significant", says Rosie. "We wish her very good health and many blessings for the future."