Archived News Item
WELCOME IMPROVEMENTS FOR ST CATHERINE'S
June 27, 2016
St Catherine's House of Hospitality, Tuart Hill, WA, is a centre run by the Sisters of Mercy which invites peaceful and prayerful reflection, restful recreation and shelter or short term accommodation in a simple setting that encourages respect for all.
Recently, some maintenance work commenced at St Catherine's House of Hospitality in Tuart Hill, WA. The work was the culmination of a successful application for a grant from 'Lotterywest' totalling $63,292.00.
Our application was to help us in funding compliance work for disabled parking, the removal of 'trip hazards' in our grounds and the installation of a ramp leading from the landing, into the garden, and out to the carpark thus enabling safe emergency exit for people with disabilities. The application process required a lot of 'toing and froing' between St Catherine's, Lotterywest, McAuley Ministries Limited and the Institute Legal Team – special thanks to Sr. Eileen Anne Daffy who was able to provide the extra legal expertise.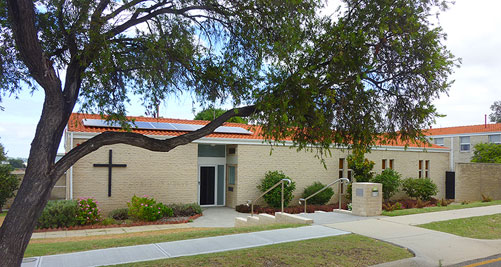 The work began with the removal of 800 concrete pavers from around the House. We advertised on the Gumtree website to anyone who wanted to come and 'lift and take' the slabs. This process saved us the cost of tipping fees – there was no shortage of takers, in fact we ran out of slabs!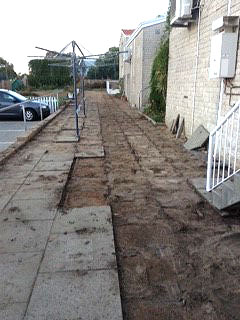 With the initial clearing of slabs complete, the Bobcat moved in to remove the areas of grass for the disabled parking bays, and an area along the back of the house so that we could widen pathways. Two camellia trees were unceremoniously removed and transplanted – minus ½ their root systems they appear to have survived the trauma!
While we still have a fair bit of work to restore areas of our garden, we are very grateful to Lotterywest for their very generous grant, and to all the tradespeople who have worked to create a new, safe, and compliant outside area around St Catherine's. We look forward to the benefits this work will bring to our House.
For more information on St Catherine's House of Hospitality go to our website: www.stcatherineshospitality.org.au

Messages to: Elizabeth Nicholls rsm