Archived News Item
Welcome Catherine
November 3, 2011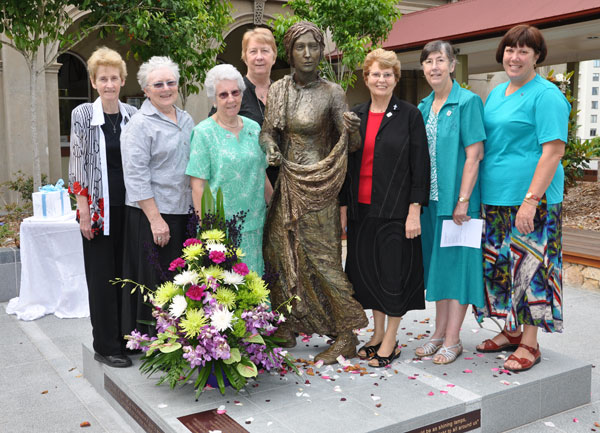 Tuesday November 1st was a truly special day in All Hallows' history as on the feast of All Saints (All Hallows) and in its 150th year, a beautiful bronze sculpture of the founder of the Sisters of Mercy, Catherine McAuley was unveiled at a special blessing ceremony. Fittingly, the blessing proceeded a mass prepared by Mercedes House and the theme of mercy (Mercedes in Spanish) was a central focus. The mass, celebrated by Bishop Bill Morris was attended by members of Congregation Leadership Team, former Principals Sr Anne Hetherington and Sr Anne O'Farrell, the School Board, the Foundation, The Parents and Friends, sculptor, Meliesa Judge and other invited guests and members of the School community including staff, students and parents.
After communion, the congregation processed down The Walk to the sounds of the graceful and reverent music of handbells played by the Year 10 Music class who had lined The Walk. In Catherine Court, the sculpture, named The Offering, was unveiled by the School Captains, Ellie Miller and Anjelica Rush and Year 5 student, Danielle Cappello. Bishop Bill blessed the sculpture and as it was sprinkled with Holy Water, members of the Sculpture Reference Group, staff member Mrs Sue Hickey and Year 12 student Lucia Amies placed rose petals at Catherine's feet and Mrs Anne Clarke (Parents and Friends) presented Catherine with a welcome floral bouquet. Founding Reverend Mother of All Hallows', Mother Vincent Whitty, made reference in one of her letters to a magnolia tree that 136 years later still stands outside the convent and it was ironic that the newly planted magnolias near the sculpture were in bloom to welcome Catherine on Tuesday. The connection between Catherine McAuley and Mother Vincent is a special one as although, Catherine had died in Dublin 20 years before the Sisters arrived in Brisbane, Mother Vincent was with Catherine in her dying days.
Dr Perry (All Hallows' School Principal) paid special tribute to Meliesa Judge for her deeply reflective and metaphorically significant portrayal of Catherine. Catherine is depicted in the act of giving away her own shawl to someone in need, symbolic of her deep compassion and mercy to those in need. Special thanks was also given to the Parents and Friends Association for their generous funding of this wonderful sculpture and to the assistance given by the All Hallows' Maintenance Department. The occasion concluded in a way that we are sure Catherine would have approved of – an Irish Blessing (sung by the Year 10 Music Class) and in the spirit of Mercy hospitality and welcome, an invitation to the invited guests to stay for a cup of tea.
Messaged to: Angela O'Malley (Director of Mission)
omallea@allhallows.qld.edu.au