Archived News Item
Walking nuns: travelling Mercy exhibition
October 28, 2009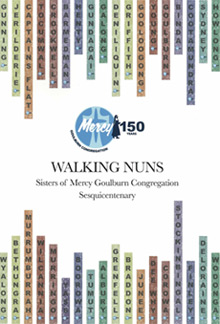 The Sisters of Mercy Goulburn Congregation Sesquicentenary Exhibition offers a view of the life and spirit of this group of women and of the rural communities from which they came.
It is a view essentially from the outside, through the eyes of the curators, Nancy Clarke and Claudia Hyles, who drew on the congregation's archives and on the oral histories of the sisters to assemble the exhibition.
The picture presented in the exhibition is of a group of religious women who approach a vocation to serve "the poor, sick and ignorant" with the down-to-earth practical energy and sense of fun that their foundress, Catherine McAuley, epitomised.
The story is told of their lives as Sisters of Mercy guided by the foundress' rule and constitutions, from the congregation's origins in Ireland to the journeys to the towns of Goulburn, Albury and Yass.
Also presented, as Mercy houses spread throughout southern New South Wales, is a history of the sisters' initiatives in education, health and welfare, and the evolution and final handing on of these to others.
The inner life of the congregation is portrayed: how the sisters have arrived at decisions about their life and work, their attention to preserving their Mercy spirit and identity through time, how they have accepted new members, fostered the spiritual and professional life of the sisters and how they have managed their finances.
At each of the exhibition venues, there will be sisters on hand to answer questions and guide visitors through the exhibition. There are over 100 items on show, including reconstructions of the front parlour of the convent ready for the priest's breakfast, and of the refectory where their sisters had their meals. The life-sized clinical teaching model from the Albury Mercy Hospital has been dressed in the distinctive Mercy Sisters' religious habit from the 1960s.
A TV slideshow takes the viewer on a journey through the cities, towns and villages where the Mercy Sisters have been working.
The exhibition opens in Goulburn on the sesquicentenary weekend (October 23-26), and will travel to other centres of significance to the congregation.
The 2009 venues are:
Goulburn, Trinity Catholic College Study Hall, corner of Clinton and Bourke Streets
Saturday October 24 12:00 noon – 5:00pm
Official opening by Councillor Carol James at 2:30pm
Sunday October 25 1:00pm – 6:00pm
Monday October 26 9:00am – 2:00pm

Young, Catherine McAuley Hall, Hennessy Close
Saturday October 31 12:00 noon – 5:45pm
Opening by Mayor or representative at 2:30pm
Sunday November 1 10:30am – 5:00pm
Monday November 2 9:00am – 2:00pm
Queanbeyan Arts Centre, Crawford Street (co-inciding with the Institute of Sisters of Mercy of Australia Social Justice Conference)
Friday November 6 5:00pm – 7:00pm
Saturday November 7 10:00am – 5:00pm
Sunday November 8 9:00am – 2:00pm
Yass, St Augustine's Chapel, Meehan Street
Saturday November 14 12:00 noon – 5:45pm
Opening by Mayor or representative at 2:30pm
Sunday November 15 10:00am – 5:00pm
Monday November 16 9:00am – 2:00pm
Albury, Sacred Heart Parish Hall, corner Swan and Mate Streets
Opening by Councillor Patricia Gould at 2:30pm
Saturday November 21 12:00 noon – 6:00pm
Sunday November 22 9:30am – 5:00pm
Monday November 23 9:00am – 2:00pm
Enquiries to: Frances Fitzpatrick RSM Email: frances.fitzpatrick@mercy.org.au