Archived News Item
Walk for the Silent Many
September 22, 2014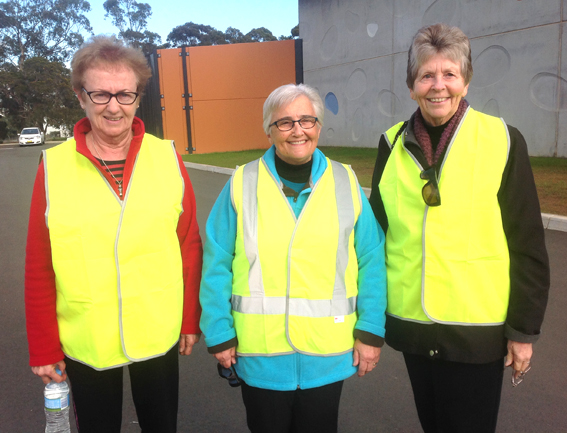 On Saturday 23 August, we, Helen Law, Pauline Murray and Helen Baguley, travelled to Sydney to Villawood Detention Centre in support of The Walk for the Silent Many, described by its organisers as " … a non-violent action on behalf of asylum seekers in Australia who have no voice. We are seeking an end to closed detention in on and off shore facilities."
Anne Hilton is the initiator of The Walk for the Silent Many, which started at Villawood Detention Centre in Sydney and will end at Parliament House Canberra, where the walkers will request meetings with the Prime Minister, the Minister for Immigration and other members of Parliament.
The walk is approximately 350 kilometres and will take nine days to complete. It is being done in silence, to symbolise the silence and secrecy imposed on the general public and the media around the alarming truth of what is really happening in detention centres on our watch, in our name. But above all the silence symbolises the plight of asylum seekers. They have no voice, no rights.
When we arrived at Villawood a small band of people dedicated to the cause of asylum seekers had gathered in the assembly area outside the main entrance of the Detention Centre. We were under the sombre gaze of multiple security staff in vehicles, who, with faces totally devoid of expression, were driving around the perimeter of our group.
Very high black wire fences enclosed the open spaces around the building, but there was not a human face to be seen anywhere within the complex. As soon as Anne began to address us, the security force moved in and ordered us (again with blank faces) to remove ourselves, as we were on Commonwealth ground.
We gathered ourselves together and moved obediently down the long driveway to the street, where Anne again spoke to us under the watchful presence of various police persons standing with folded arms outside two police cars. I suppose we could have been seen as a gang of desperados, dressed up in our fluorescent vests and carrying backpacks and water bottles! Anyway, no one was arrested.
Part of the beginning ritual (outside the gate) was a Welcome to Country by two Aboriginal Elders, and then Anne Hilton read "I am sorry", an Open Letter of Apology to all Asylum Seekers. We found this a very moving moment. We three joined the walk for a period of time, and then farewelled those intrepid people continuing on. For us, it was an opportunity to add our support to those speaking out about this grave injustice.
As stated by the organisers:
"The Walk for the Silent Many is the first major event supported by 'Changing the Tide', however there will be others to follow. Each action will continue to be informed by asylum seekers and each action will be focussed on creating a fair, just and humane response to people seeking our protection and a safe life in Australia".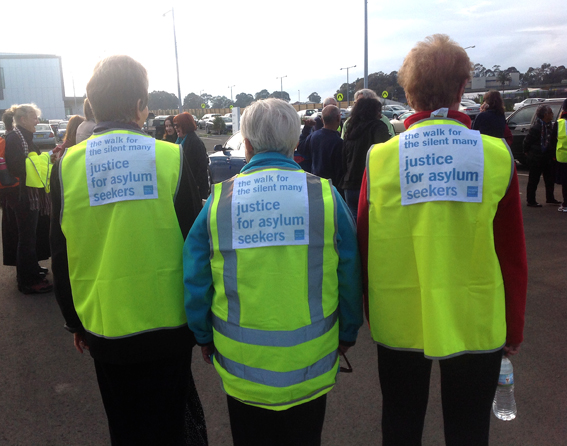 Let us continue to add our prayer to these endeavours.
Messages to:
Helen Baguley rsm
Helen Law rsm
Pauline Murray rsm

Top photo: L-R: Helen Law, Pauline Murray, Helen Baguley