Archived News Item
WA sisters gather to remember mercy anniversaries
December 21, 2006
On Tuesday, December 12, 2006, Mercy Foundation Day across the world, our WA Mercy sisters gathered to remember that very precious event in the celebration of the Eucharist at Our Lady of Lourdes Church, Lesmurdie. Celebrants were His Grace, Archbishop Barry James Hickey and Father John McGinty OMI, Father Leon Anderson OMI and Father John Cranley OMI.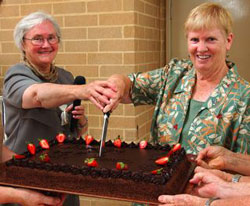 Within the "Founding" theme, we were celebrating the 175th anniversary of the founding of the Sisters of Mercy in Dublin in 1831; the 160th anniversray of the Perth Mercy foundation; the 110th anniversary of the West Perth Mercy foundation; the 50th anniversary of the first Mercy foundation in Papua New Guinea; and the 25th anniversary of the Institute of the Sisters of Mercy of Australia, comprising the 17 congregations.
Prior to the celebration of the Eucharist, Sister Joan Smith made a keynote presentation covering Mercy religious life from its foundation in 1831 to the present day. It was a profoundly moving exposition – comprehensive, detailed and gripping, so clearly presented. The visual impact of the sacred story so reverently unfolding: the simplicity and challenge, the dedication and persevering effort, the gentleness and strength, the generosity and courage, the power of the Mercy ideal; the willingness to risk… to move out into new places… to face the unknown.
The electronic media, handled so deftly by Joan, highlighted the Sacrament that is Mercy: the stories etched in so many faces and images from the past and the present; the stories of courage and perseverance against all odds; the vibrancy of the Mercy response in far flung regions in today's refugee camps; in poverty stricken hovels in Africa; in South America; in too many places! The recognition of the Mercy call and promise still sounding, still waiting, still counting on me!
The images came and remain as a personal call to give thanks for all that has been and continues to be in the stories of our sisters. The silence of the media spoke powerfully to the heart. Here was a continuing call to mission. The message of the founding myth of 1831 is in our life blood. For that, we give thanks to God through Catherine's intercession.
A new phenomenon seems to be emerging and touching us gently. It belongs in the mystery that is Mercy. The 'small' in Mercy has never been afraid to move into the bigger space. The small sailing boat carrying Ursula and her companions in 1845-6 and venturing into the wide, still largely uncharted oceans, spoke of no hidden dangers to our intrepid missionaries. The new awareness of our potential strength in reconfiguring may give us new courage in the face of poverty and discrimination.
In our WA founding celebrations, we may well have confirmation that we have already glimpsed the bigger picture. Something of a bigger aspiration has been sparked in our hearts. And Catherine's voice still comes over hauntingly: "MY LEGACY TO THE INSTITUTE IS LOVE!"
From: Sister Marcella Blake RSM
Email: mblake@mercy.org.au