Archived News Item
WA Mercy community supporting Mercy Works Inc.
November 17, 2009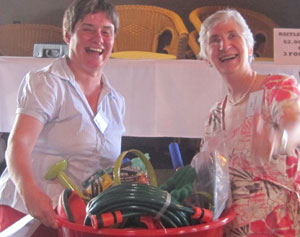 Cathy Solano RSM (Melbourne) recently visited Western Australia as part of her role as Mercy Works Inc.'s Community Education Officer. Cathy reports on some of the generous fundraising activities undertaken by the West Perth and Perth sisters, mercy associates and other friends in support of Mercy Works Inc.
On Sunday October 18, 72 men, women and children gathered at the Northlands Round House Tavern in Perth for a fundraising luncheon to support Mercy Works Inc. Clare Rafferty RSM (West Perth) and Jan O'Connor (Mercy Associate) negotiated with the owners of the Tavern so that a delicious roast beef dinner and dessert would be served at a moderate cost; the owners wanted to contribute towards the function. The weather was divine and the venue perfect.
Together with the 12 faithful Mercy Associates who have been raising funds for Mercy Works Inc. for over ten years, a fun-filled afternoon was definitely in store. As soon as guests arrived, half of whom had been invited by Margot and Richard Horton, they were "strongly encouraged" by Cath O'Connor RSM (West Perth) and her brother Brian (Mercy Associate), to buy raffle tickets for the numerous prizes that would be drawn between courses. The most coveted prize was the huge basket of garden goodies from Bunnings. Elizabeth Nicholls RSM (Melbourne) had sought donations from many sources, and Bunnings, IGA, Woolworths, Coles, Target and George, the local butcher, responded generously with attractive offerings.
Door prizes such as bottles of wine, toiletries and chocolates were frequently called out because 11 separate parcels had been donated by sisters, associates and friends in the months leading up to the event. Suspicions were aroused, however, when many of the prizes and raffles were claimed by the sisters who were present! The most hilarious moment occurred when the self-confessed least able gardener in the group – Jan O'Connor – won the garden prize!
Before dessert was served, Jan spoke briefly about the reason for the gathering and then I was asked to share something of how the money raised makes a difference for the people who live in poverty in the places where Mercy Works Inc. has been, and continues to be involved.
A total profit of $1680 was counted from the lunch and raffles – a magnificent effort! I also invited anyone who was interested to gather at St Catherine's Mercy House of Hospitality in Tuart Hill on the following Thursday evening to listen to many more stories and view photographs in a PowerPoint presentation of the Mercy Works Inc. projects that are current in Papua New Guinea, Pakistan and Timor Leste.
Twenty-seven people, many of whom were Mercy Sisters from the Perth Congregation who were not able to attend on Sunday, and Pat and Frank Matthews, two of the original Mercy Associates, gathered for this presentation.
Margaret Lipsett RSM (Perth) passed a hat around at the end and a further $230 was added to the coffers. Another donation of $90 was received. This dedicated and hard-working group of sisters and associates are thrilled to present Mercy Works Inc. with a cheque for $2,000.
From: Cathy Solano RSM (Community Education Officer, Mercy Works Inc.)