Archived News Item
Voicing Our Concerns
October 28, 2013
"We are stewards of a planet and its resources made by God… Our calling to care for creation requires sound moral judgements here and now concerning the use of the world's resources in our daily lives, in national policies, for future generations and with great concern for those in our world who are in need."
Australian Catholic Bishops Conference, Social Justice Sunday Statement for 2007 Who Is My Neighbour? Australia's role as a global citizen
Across the country individuals and communities continue voicing their concerns about the impact of unconventional gas mining. Community groups want independent and transparent research into the impact of coal seam gas mining before State and Federal governments permit further exploration and mining, in particular the process of fracking. It is vital that there is genuine and consistent community consultation and distribution of information. There is the obvious impact on the damage to the landscape which in turn leads to other repercussions. What are the potential effects on our precious land, water and river systems and, on people's health and well-being?

What is happening in your region?

In August 2012 new exploration licences for coal seam gas, as well as the practice of fracking, were placed under a temporary ban by the Victorian Government. It is currently awaiting the review of the situation which will guide its decision on the temporary ban.

In her book Rich Land, Wasteland Sharyn Munro states:
We do have a right to expect that our governments will think beyond what Big Business wants and how much they will pay for it, and instead think about what will be needed for a safe and healthy population into the future, and how to achieve that.
It's time we insisted that our governments think beyond politics and become leaders. They need to rediscover principles and re-arrange their priorities.
S. Munro, Rich Land, Wasteland, (Pan Macmillan Australia, 2012), 424.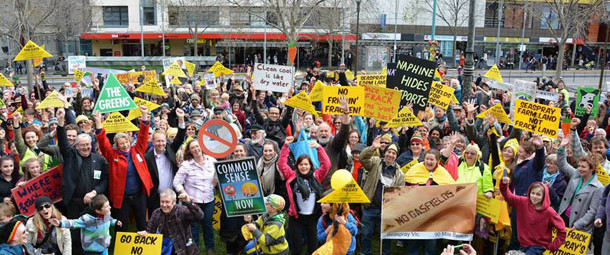 Stay Informed, Hear the Voices, Take Action Locally and Nationally
Well of Truth – video clip of a community's responses.
Lock The Gate Alliance is a national coalition of community groups united to 'protect our common heritage – land, water and future – from reckless coal and gas expansions'.
Dr. Geralyn McCarron's independent health survey in the Tara rural residential estates and environs (Qld) 2013: Symptomatology of a gas field
Carmel Heagerty RSM, Institute Justice Co-ordinator Institute.Justice@ismapng.org.au
Messages to Carmel Heagerty rsm
Photo: http://quitcoal.org.au/